I have long loved the whoopie pie–my grandmother's recipe, Labadie's whoopie pies, and the whoopie pies from the Italian Bakery…  A few weekends ago, I finally tried the famous Wicked Whoopies made by Isamax Snacks…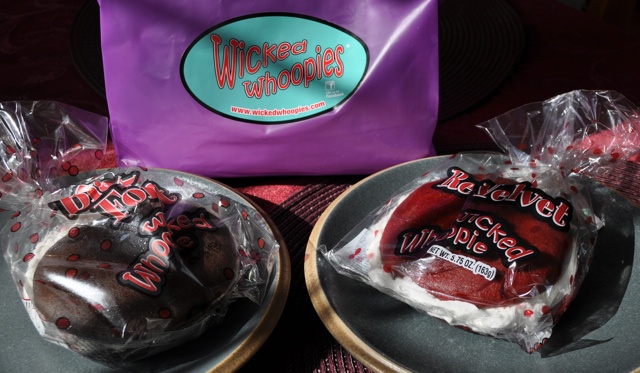 It's funny, because I have driven by the Gardiner shop a number of times, often with a full belly after having had dinner at Slates, The Liberal Cup, or the A-1 Diner, which is after business hours for Isamax Snacks so the shop has never been open when I've passed by.  I have also walked by their Freeport location on a number of occasions, but have somehow resisted the urge to walk in, knowing I would probably walk out with more whoopie pies than any human being should consume…  Well, a few weekends ago a friend stopped in and picked up some samples, and shared a couple with us.  Now it will be harder than before to resist stepping into the Freeport shop when in town.  I have a feeling I will need to try each flavor–maybe one per Freeport visit to keep it in moderation.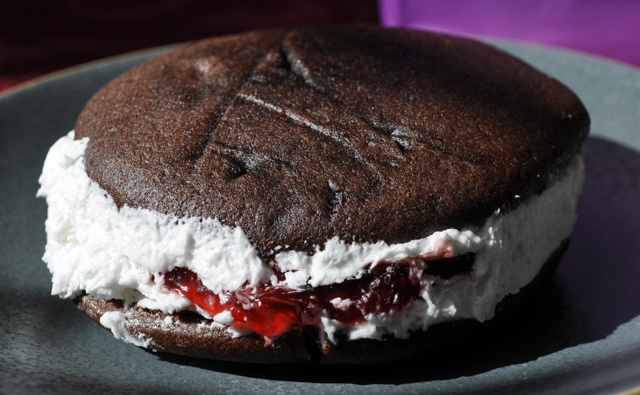 One of the samples was a Black Forest whoopie pie, which consists of chocolate cake with white filling, and some cherry filling.  This was a nice variation of the traditional whoopie pie, and of the two we tried, this was my favorite.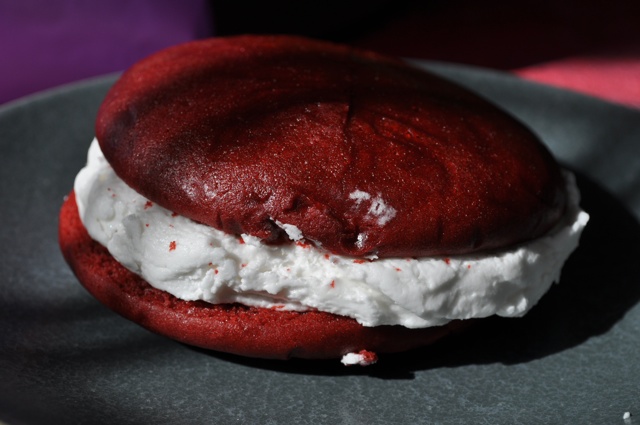 The other was a Red Velvet whoopie pie, which I am pleased to say had nice flavor.  I have had several red velvet cake samples in the past, and somehow many have reminded me of what PlayDoh must taste like (not that I've sampled PlayDoh, but the flavor reminded me of the familiar PlayDoh scent).  This whoopie pie was probably one of the best red velvet cake products I have ever had!  (A very close second to Amy's Cake Balls…)
We decided to split both whoopie pies so we could both try each flavor.  I had good intentions of having one of the halves, and MAYBE saving the other half for later…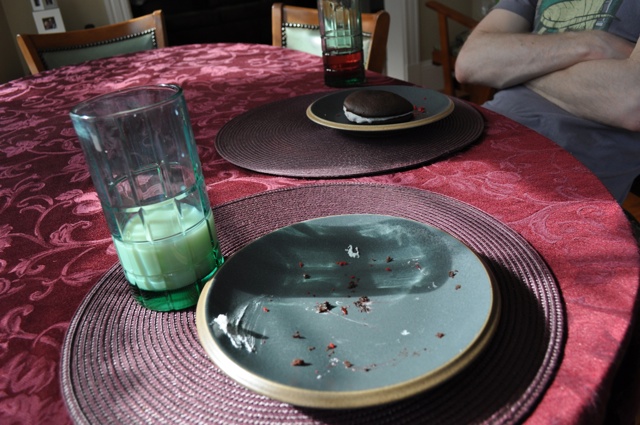 I will use the excuse that I was still "eating for two" at that point… On a positive note, I did drink a very tall glass of milk with this decadent treat…