I don't have any memory of having this traditional St. Patty's Day meal in the past, so when I found a recipe that involved braising the corned beef in lager and letting it cook all day in the crock pot, I figured it was worth a try!  (My parents claim that I had it at some point as a child, but I must have been very young or unimpressed.)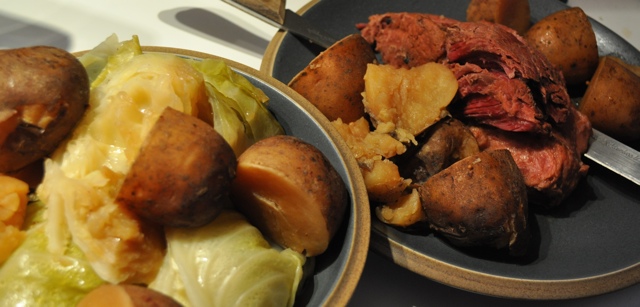 This dish was more flavorful that I would have expected for a basic meat and potatoes meal from Family Circle Magazine (April 2014).  I rinsed the corned beef thoroughly, and trimmed of quite a bit of the fat.  Then poured two Sam Adams Boston Lager (12 oz bottles) into a crock pot.  The actual recipe calls for one bottle of lager, and one cup of water, but I figured it wouldn't hurt to use two bottles of the beer…  Then 1 cinnamon stick, 12 whole cloves, 1 tsp peppercorns, the corned beef brisket and ten or so potatoes cut in half.  I also added the little packet of seasoning that came with the corned beef brisket, figuring it would add a little more flavor.  I let it cook all day on low heat, about seven hours, then about two hours before serving, I quartered the cabbage and placed it on top of the other ingredients.  Everything was cooked perfectly!  The meat was falling apart, the potatoes were soft and had picked up the aromatic flavors from the cinnamon, cloves, pepper, and beer.  The cabbage was also cooked perfectly, even though I had suspected that it might have been undercooked!
So while I am typically not into meat and potato style meals, this one made a nice dinner for my family tonight, and we also have enough for about two more meals of leftovers.