Whenever we explore a new city, we spend a lot of time wandering around before deciding where to eat.  New Orleans was no exception.  Since our hotel had an excellent breakfast included, we loaded up on make-your-own waffles, eggs, fruit and coffee (sorry, no pictures) before hitting the pavement.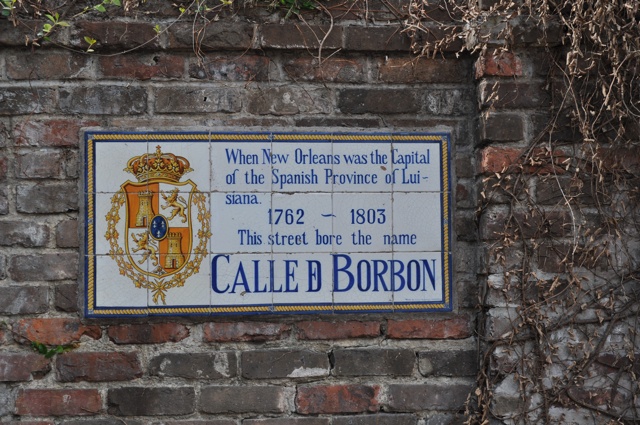 We started with a stroll through the French Quarter, heading through the world famous Bourbon Street.  All I can think of to describe this bizarre street is: OOB on steroids.  It's very Vegas-like, and not quite what I had expected.  I didn't take too many pictures on Bourbon Street, and we really didn't spend much time there aside from a late afternoon stop at Pat O'Brien's Piano Bar for some live music and an overpriced, keep-the-glass "original" hurricane.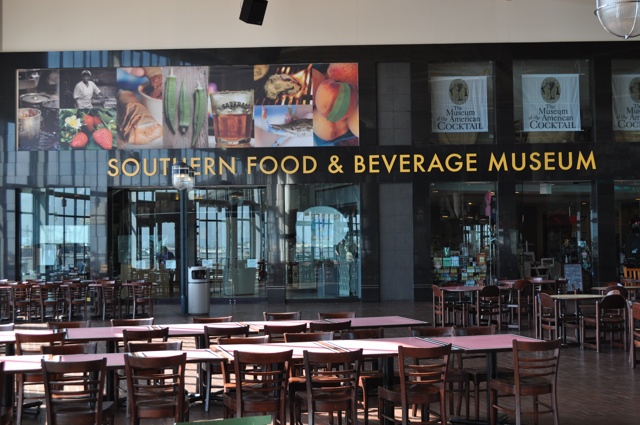 Next we strolled along the Mississippi River, visited the Riverwalk and stopped by the Convention Center to attend to some business.  While in that area, we found the Southern Food and Beverage Museum, which helped us to put together a checklist of foods to try during our visit.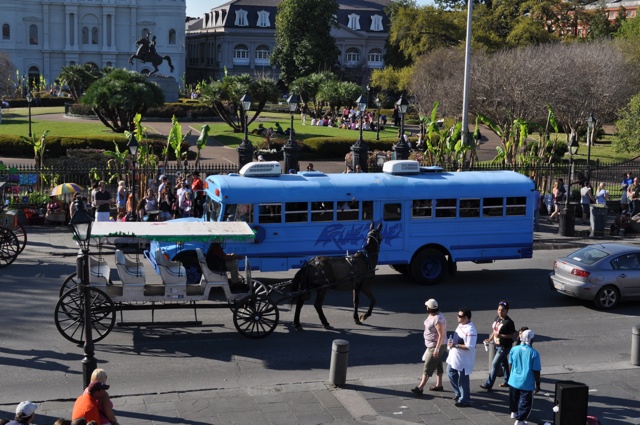 To help clarify how bizarre this city is, away from the party zone of Bourbon Street, near the historic Jackson Square, one can view a horse and carriage and a party bus passing each other on the street in the middle of the day.  I was amazed by the number of horses we saw in the streets, and felt sort of sad for them.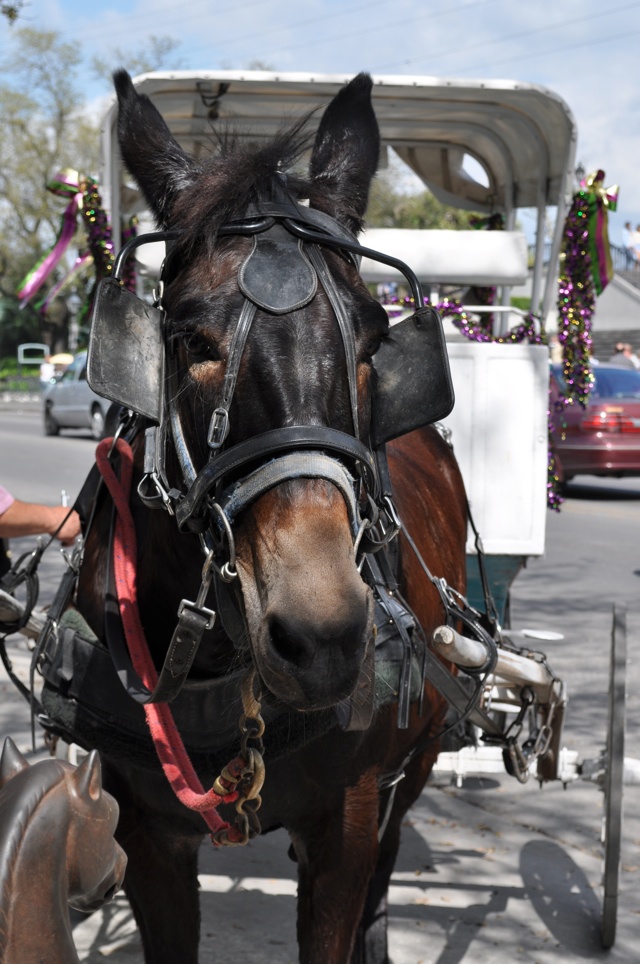 New Orleans, at least in the most touristy areas, seems like an awful place to be a horse.  I was also amazed at how many old school buses have been converted to 24 hour a day rolling dance parties.  And the number of take-out daiquiri shops was astounding.  Think nasty spinning machines filled with various icy, artificially colored and flavored goo.  While the alcohol content in those machines might be high enough to keep the bacteria levels down, I wasn't feeling daring enough to test my digestive system on one of those trouble-in-a-Styrofoam-cup deals that everyone else seemed to be enjoying 24 hours a day.  Let's just say this Maine gal experienced a bit of culture shock on day one of the visit; I will refrain from even mentioning some of the things I saw during our short walk on Bourbon Street!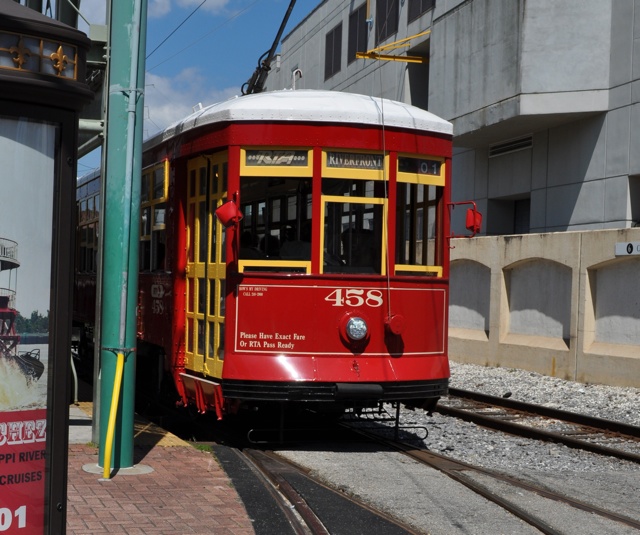 In need of some quiet time, we decided to hop on a street car to visit some of the famous Cities of the Dead, huge above ground cemeteries on the edge of the city.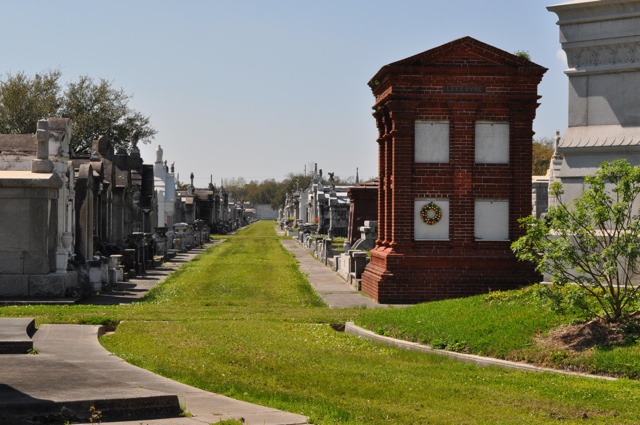 Even though we were visiting well past Mardi Gras, we found beads everywhere.  Of course tourists were wearing them while walking the streets with their daiquiris, and the trees along the parade route were still littered and glittered with dangling beads.  Someone even placed beads on gates and tombs throughout one of the cemeteries we visited.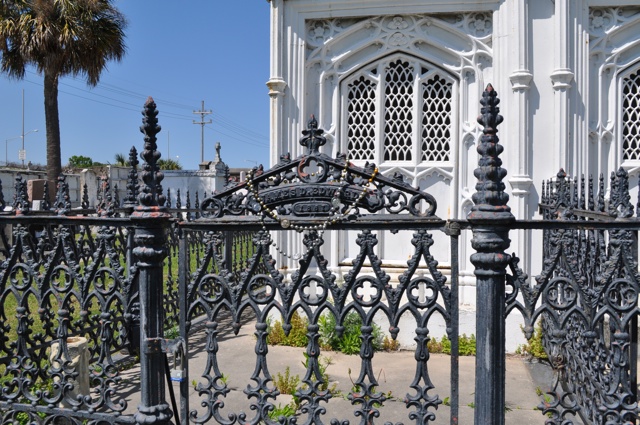 We caught a street car back into the French Quarter, and continued to wander a bit, avoiding Bourbon Street, and checking out Decatur Street.  On this street we found the famous Cafe du Monde where we sampled beignets with cafe au lait, and Southern Candy Makers where I tried my very first praline.  These will be highlighted in blog posts of their own on another day…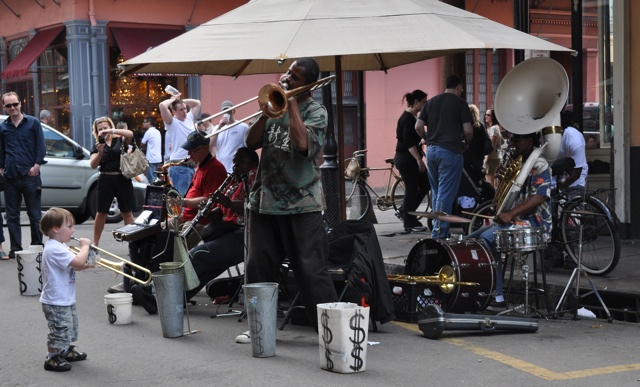 We also stopped to listen to music at various stops along the way, and saw street performers of all ages.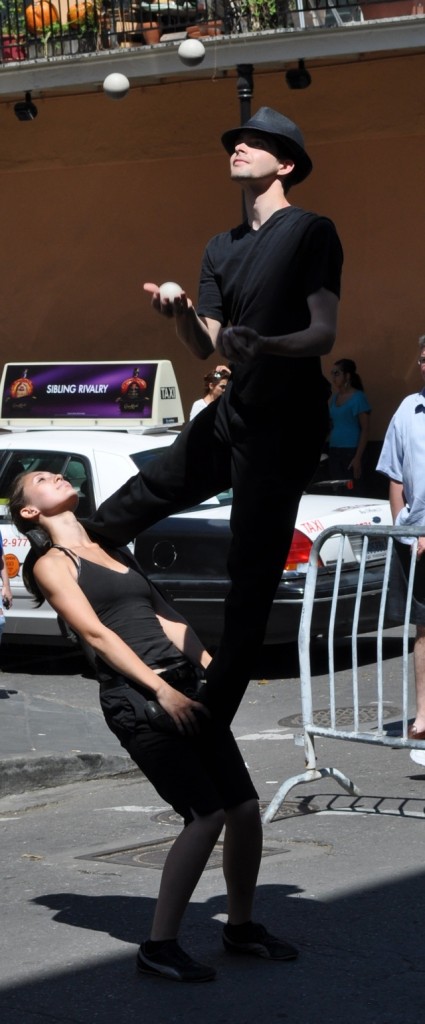 From jugglers, to jazz; breakdancers to tarot card readers…  The entertainment on the street is definitely something.  I even walked by a comedian, a group of acrobats, people preparing for a parade, and several guitarists all within a five minute walk through the Decatur Street area.  While there is a lot of "free" entertainment on the streets, our favorite spot for nightly jazz was Maison on Frenchman Street.  We liked the music and laid back atmosphere so much that we returned for a second visit during our long weekend trip.  My husband even returned with his co-workers on another evening after my departure.  Walking on Frenchman Street is an experience in itself, daytime or nighttime.  Our first walk was in daylight, while scoping out a place to return for evening entertainment.  It's definitely an interesting place to people watch while walking quickly.  It was by far the most musical place I have ever visited though, with the sound of jazz and other live music pouring out into the streets from the open doors of various venues.
In the more touristy zones, many restaurants set out sample plates in order to draw in customers.  We didn't fall prey to this strategy, though it did remind us that we wanted to try crawfish at some point during our visit.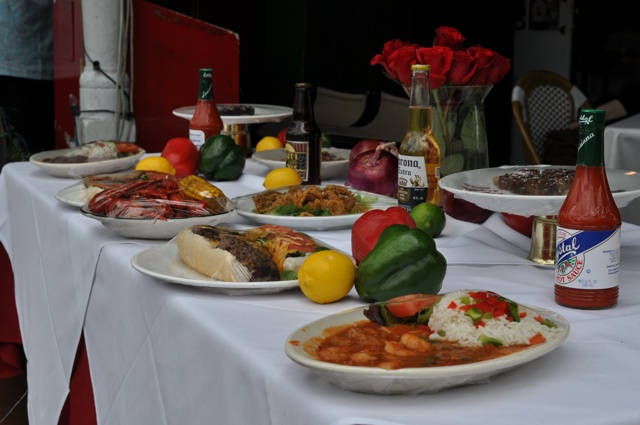 We also wanted to try etouffee, gumbo, muffuletta, and a real po' boy.  I am happy to say that I did sample excellent examples of the first three foods, which I will share more about in future blog posts.  Sadly, the po' boy I tried was no where near as good as the one I had at the Deer Run Tavern in Yarmouth, Maine.  After my departure, my husband said he had a "real" po' boy at a place called Mother's, an experience of which I am a bit jealous.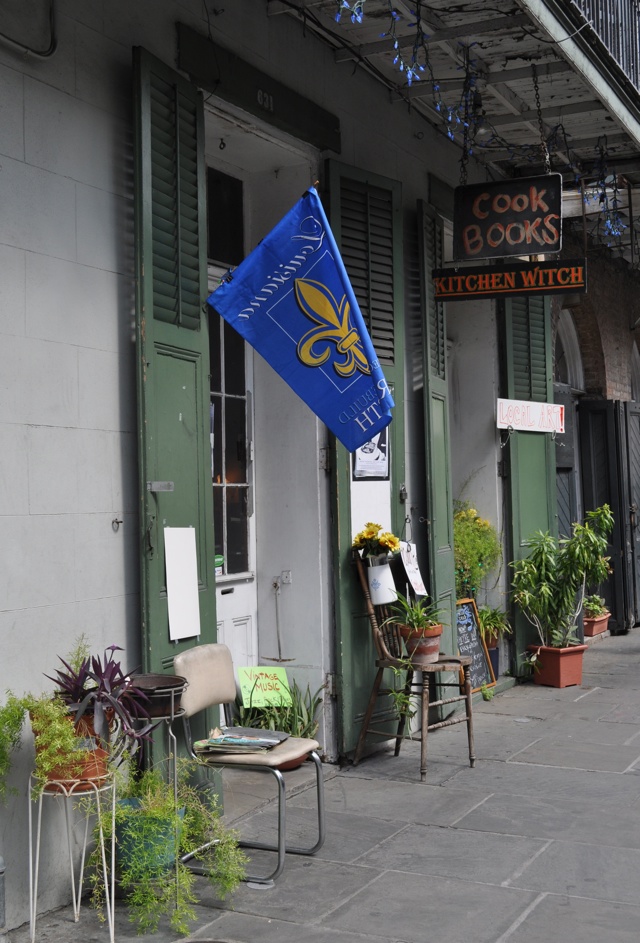 We found an amazing cookbook shop called Kitchen Witch while wandering the city.  If I had any space in my carry-on luggage, I would have likely bought a couple of books to bring home!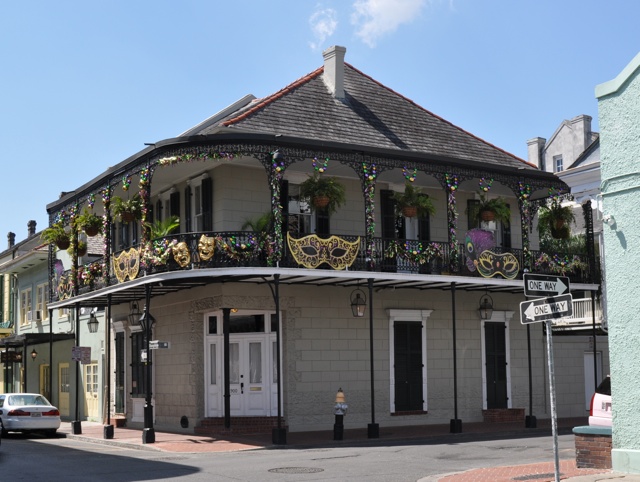 It was also interesting to see the Mardi Gras decorations, which were as prevalent as Christmas decorations are during the month of December.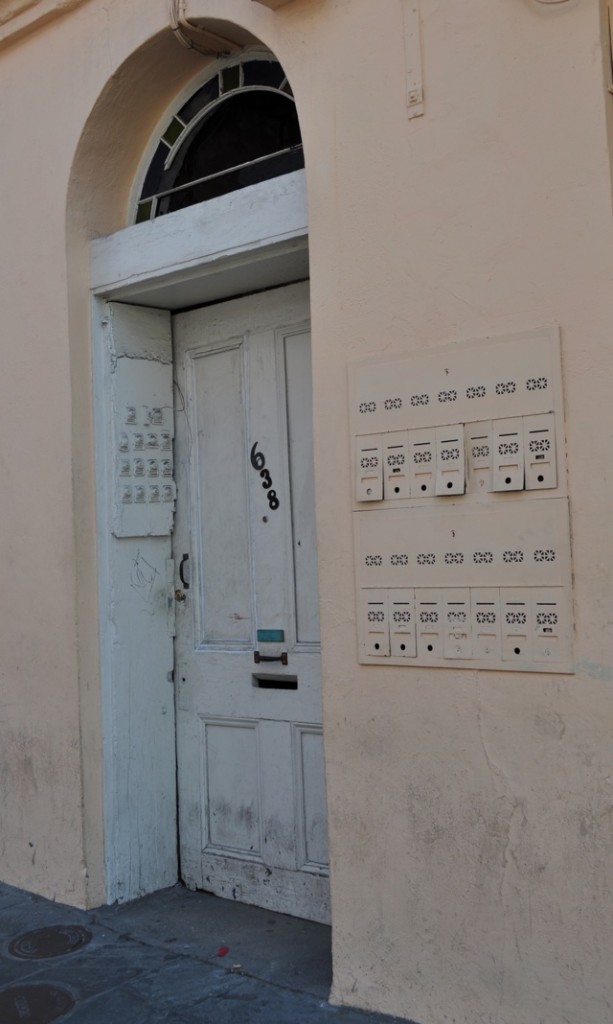 In addition to experiencing the music and food of New Orleans, seeing the old buildings and their remnants of the past provided for a lot of interesting visual experiences.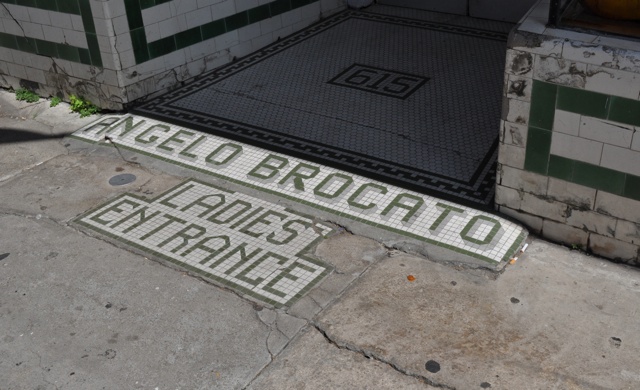 I found myself taking a lot of pictures of old homes, doorways, gardens, sculptures, and interesting trim work.  Stay tuned for more details in the next post!