Last night we were deciding where to have dinner, and remembered we had a gift certificate to Deer Run Tavern in Yarmouth, Maine.  We had never been to Deer Run Tavern before, and were not quite sure what to expect.  We found it to be small, but inviting, and definitely a locals hangout.  A local band, Juke Union, was playing for a small group of people who seemed to have met up for drinks.  We hadn't planned on live music with our dinner, but this was a nice surprise!
I had browsed the menu online from home, and had pretty much decided I wanted to try their "Poor Boy" since that is one of the things on my list to experience in New Orleans.  I've never had one of these sandwiches before, and wanted a baseline for comparison.  I was impressed with the lightly fried shrimp and spicy sauce on this sandwich, served with hand-cut shoestring fries.  A perfect refueling dinner after a day of snowshoeing!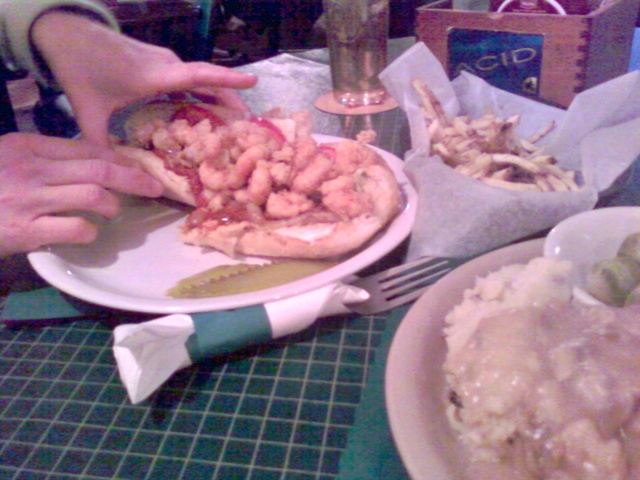 My dining partner ordered a stuffed chicken dinner, which appeared to include half of a chicken with stuffing, a huge mound of mashed potatoes and homemade gravy, and a side of brussels sprouts.  While my dinner was the epitome of pub food, his was a very well done "home cooked" meal out.
For dessert we tried the key lime pie.  It was homemade, nicely tangy, and lightly frozen which made it different from other key lime pies I have tried.  I will say that it is in my "top 3" key lime pie favorites, among the one served at Becky's Diner in Portland (theirs is NOT made in house, but it is amazing) and the one served at Sedgley Place in Greene.
I hadn't planned on writing a blog post about last night's dinner, so the only camera we had with us was a cell phone, hence the fuzziness.  Visually, dinner was much more pleasing in person, made from very fresh ingredients, and served up piping hot.  The atmosphere was very relaxed and inviting; after dinner we were even asked if we wanted to stay awhile.  This is highly unusual in small restaurants where the goal often seems to be to clear the table for another guest who may soon arrive…  If we lived closer to Deer Run Tavern, we would visit more often!