This is another recipe that was submitted by a student for the healthy recipe contest and cooking demonstration held on February 17th.  While the recipe calls for chicken broth, vegetable broth could be substituted to make it a true vegetarian soup.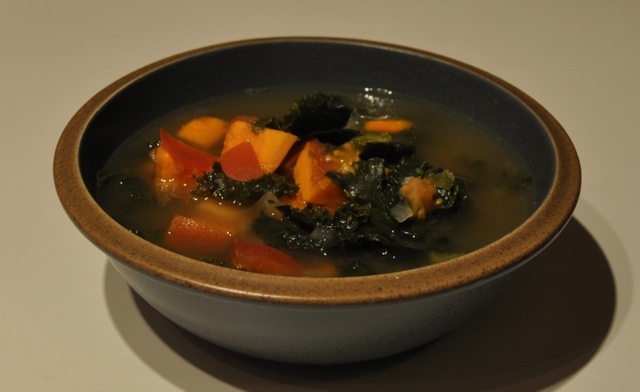 I made some modifications to the recipe mainly to be able to make it from what I had at home.  I also used dry beans which I soaked and cooked ahead of time.  To save on energy usage, I cooked about two pounds of beans and froze what I did not need for the soup.  Now I have some containers of precooked beans ready to throw into other recipes.
I also used homemade chicken broth since I realized I could pay $5.99 for a whole rotisserie chicken, already cooked (easy dinner, leftovers for lunch the next day, and boiled the rest to make a large pot of broth) OR I could pay about the same amount for two quarts of high quality broth.  In addition to having two meals from the chicken, I made enough broth for this soup, froze three cups for future use in a chicken pot pie or Spanish rice, and I have about 1.5 c. of leftover pulled chicken in the freezer for another recipe.  All in all, a much better deal than buying prepared broth, and much lower in sodium!
Turbo Veggie Soup Recipe
1 bunch

of

kale

, chopped

8 oz.

spinach

(I omitted this since the bunch of kale I bought was rather large)

1

lg

sweet potato

or 2 small, cut up in cubes with skin on (I used 4 small sweet potatoes)

1

lg

Vidalia onion

, diced (I used 3 small yellow onions)

1 tbsp

of

olive oil

2 cloves

garlic

2 cans

of

black beans

, drained and rinsed

1 can

of

kidney beans

, drained and rinsed

2 – 32 oz.

of

chicken stock

1 can

of

diced tomato with jalapenos

, undrained (I used two fresh tomatoes, diced)

½ tsp

cumin

½ tsp

oregano

¼ tsp

cayenne pepper

a little

fresh basil and parsley

if on hand

black pepper

to taste

½ tsp

sea salt

(I left this out since the precooked rotisserie chicken probably had salt in it.)
Optional:

cooked soup noodles or rice
Saute the onion and garlic in the olive oil in a large soup pot.  Pour in broth.  Add all other ingredients except noodles or rice.  Simmer until potatoes are soft.  Add in soup noodles or rice.