Before February vacation the students at Jordan-Small Middle School in Raymond, Maine participated in a healthy recipe contest which was organized by school health coordinator Stephanie Joyce with assistance from JSMS health teacher, Mrs. Pock.  Students submitted recipes, and three of those recipes were chosen to be prepared at JSMS by a guest chef.  Students were charged with the task of voting for their favorite recipe after trying samples of each dish.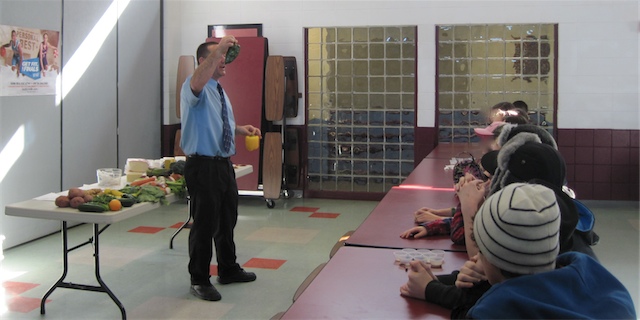 Stuart Leckie of Bon Appetit Management Company at Saint Joseph's College of Maine spent part of the day introducing students to new and interesting foods.  He began by asking students if they recognized some of the produce samples he had brought along with him.

Students were encouraged to smell, touch, and observe samples of grains, beans, herbs and spices that were set out at their tables.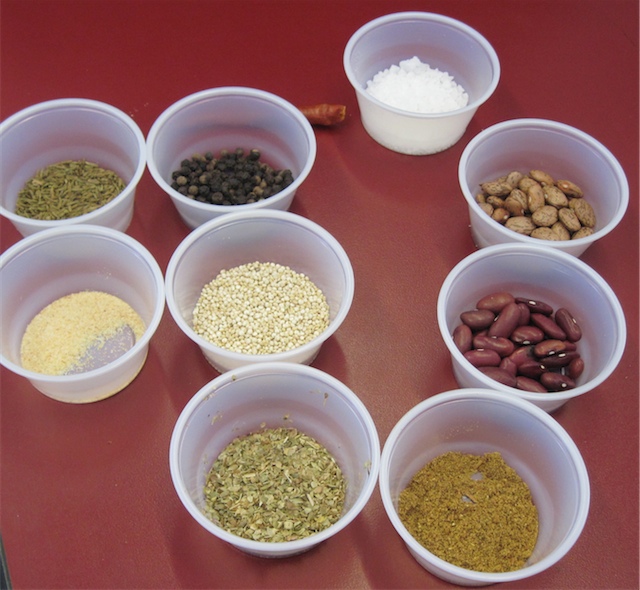 Before sharing samples with the students, Mr. Leckie talked about the ingredients that were used in the recipes, and shared nutritional information about some of the foods students would be eating.  When the sampling part of the event began, students were first introduced to a quinoa casserole.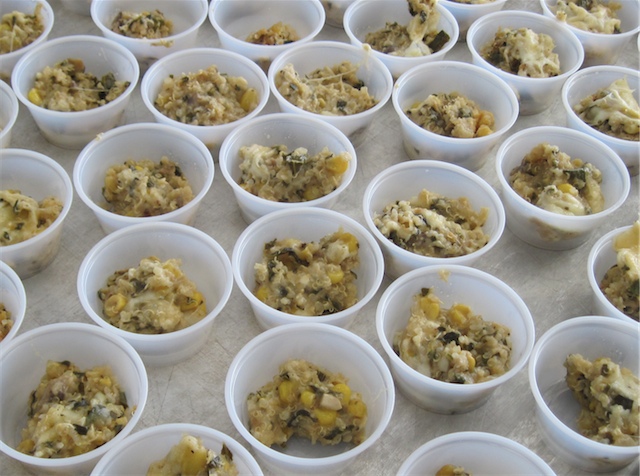 This dish had a pleasing flavor similar to macaroni and cheese, but with more depth due to the addition of mushrooms and vegetables.  While some students eyed the unfamiliar dish nervously, others welcomed the opportunity to try it, and most who did enjoyed it.  I enjoyed the sample I tried, and plan to make this recipe at home soon!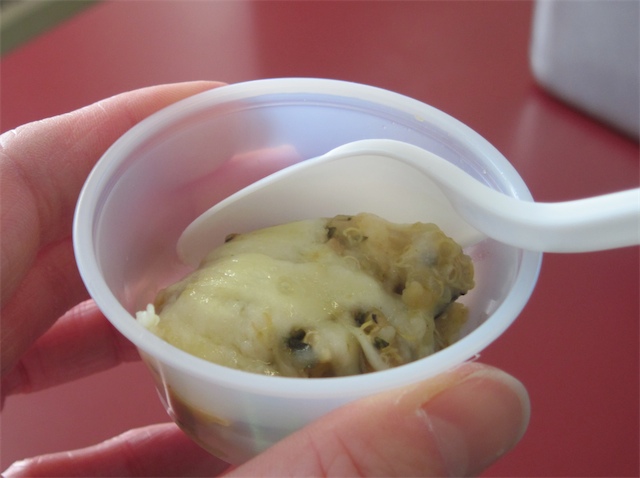 The second sample was a soup made with sweet potatoes, greens, beans and other vegetables.  The soup was loaded with fresh veggie flavor, and had a little bit of a spicy kick.  I definitely plan to make a batch soon, perhaps on the next snowy or rainy day.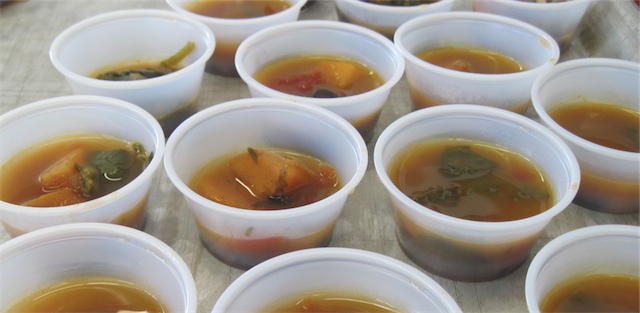 The third sample was  a homemade chili recipe.  The original recipe that was submitted only called for only four ingredients: a packet of chili seasoning, a jar of salsa, hamburg, and a can of beans.  The recipe was modified using dried beans instead of the high salt canned beans, and fresh vegetables, hot peppers, herbs,  and spices in place of the salsa and seasoning packet.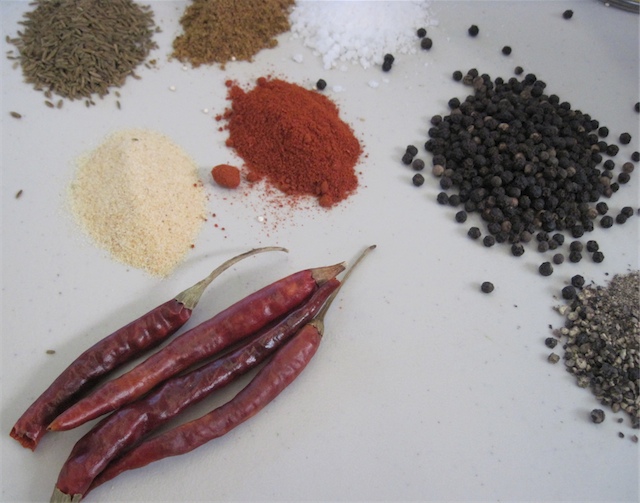 The chili was excellent, and I thought that it would likely be voted in as the winning recipe, mainly because it was a dish that most students had experienced before.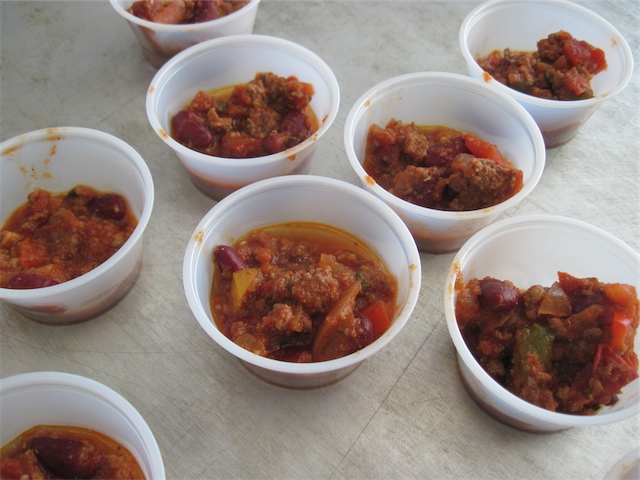 I enjoyed sampling all three recipes, and would have had a very difficult time voting since I liked all three for different reasons.  Some of the students also said they were not sure how they could rank the recipes 1st, 2nd, and 3rd; one student asked if he could rank two of them as a 1 (favorite) since he felt that it was a tie, but that they were all good.
And the winning recipe is……
Baked Quinoa
1/4 c.

finely chopped

onion

1 small clove

of

garlic

, finely chopped

1-2 Tbsp.

olive oil

1 c.

fresh chopped

kale or spinach

1 c.

fresh

corn

1 c.

fresh chopped

mushrooms

2 c.

dry quinoa

1-2 c.

of

cheese

(swiss, monterey jack, feta or your favorite)
Cook quinoa according to the directions (2 parts water, 1 part grain) and set aside.
In a medium pan, sauté the onions in the olive oil over medium high heat until almost tender. Add the garlic for 1 minute and then add the kale or spinach until softened.  You may need to add a tablespoon or two of water to wilt the greens.  Add the corn and mushrooms and cook for an additional minute and remove pan from the heat.
Combine the quinoa, vegetables, ½ of the cheese with salt and pepper to taste.  Mix well.  Put the mixture in a pam sprayed casserole dish, sprinkle the remaining cheese over the top and bake for 20-25 minutes in a 350 degree oven.