This recipe is not only easy and convenient, but very tasty and filling.  It can also be made with "leftover" chicken and rice.  In our case, we grilled chicken for dinner, but threw on a couple of extra pieces to make this salad.  I also made a little more rice to go with dinner that night so that I would have some left to chill for the salad.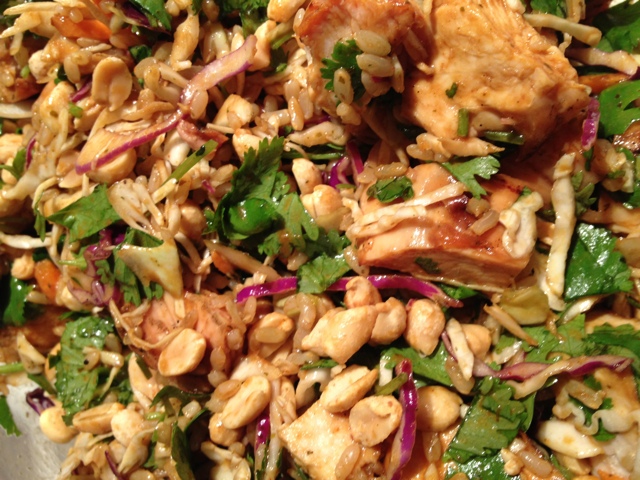 The recipe can be found in the September 2012 issue of Taste of Home, or online on the Taste of Home website.  Below is the list of ingredients I used, based on the recipe I found in the magazine with a few modifications.
1 1/2 c. medium grain brown rice, cooked & chilled (the type of rice served at Thai restaurants if you order brown rice)
3/4 c. Thai Peanut Sauce (I used San-J Thai Peanut Sauce)
2 tbsp. water
1 package cole slaw mix
2 boneless chicken breasts, grilled and cut into bite sized pieces
1 bunch of cilantro, chopped
1-2 c. of low salt, dry roasted peanuts
Combine all ingredients and serve.