This is a great broccoli salad recipe, and it is easy to make!  It is one of my favorites, though this is really the first time I've made it myself.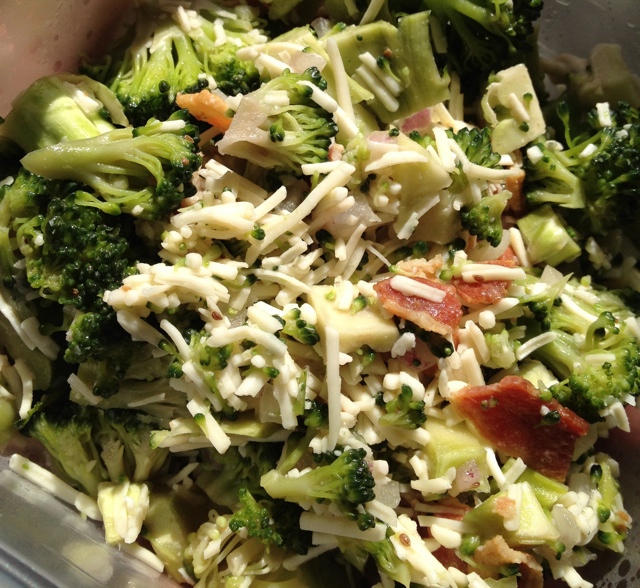 Ingredients:
2 heads of Broccoli (Chop Florets)
2-3 stalks of celery chopped (I omitted this since I didn't have any celery on hand)
3/4 bag shredded cheddar cheese
Bacon bits (I substituted five slices of bacon that I had in the freezer–cooked and crumbled)
Salad Mixture:
1 cup veg oil (I used 1/2 cup since that was what was left in the bottle I had in the cupboard)
1/4 cup vinegar
sugar to taste (1/2 cup recommended, though I used 1/4 cup and that was enough sugar for us)
1 tsp dry mustard
1 tsp onion powder (I substituted 1/2 c. chopped red onion since I didn't have any onion powder)
1 tsp celery salt (I substituted celery seeds, crushed, since I didn't have celery salt on hand)
Shake salad mixture: Pour over broccoli ( in a flat container), Marinate overnight.  The broccoli does not need to be cooked. The salt in the bacon bits will draw the moisture out. Enjoy.
***Even with the modifications I made, this salad was very tasty!  It is a very forgiving recipe, and makes a great side dish or easy snack.