We arrived at home one afternoon after a day of errands in the Portland area to find a healthful surprise on our front porch: a bean salad unlike any other I've had before!  My first reaction was to wonder what was on our porch, since normally we don't find food sitting out there…  It turns out that a friend had dropped it off for us with a note–thinking that I might be getting a little tired to be cooking.  I must say it made for a very nice EASY dinner with some bagels that night!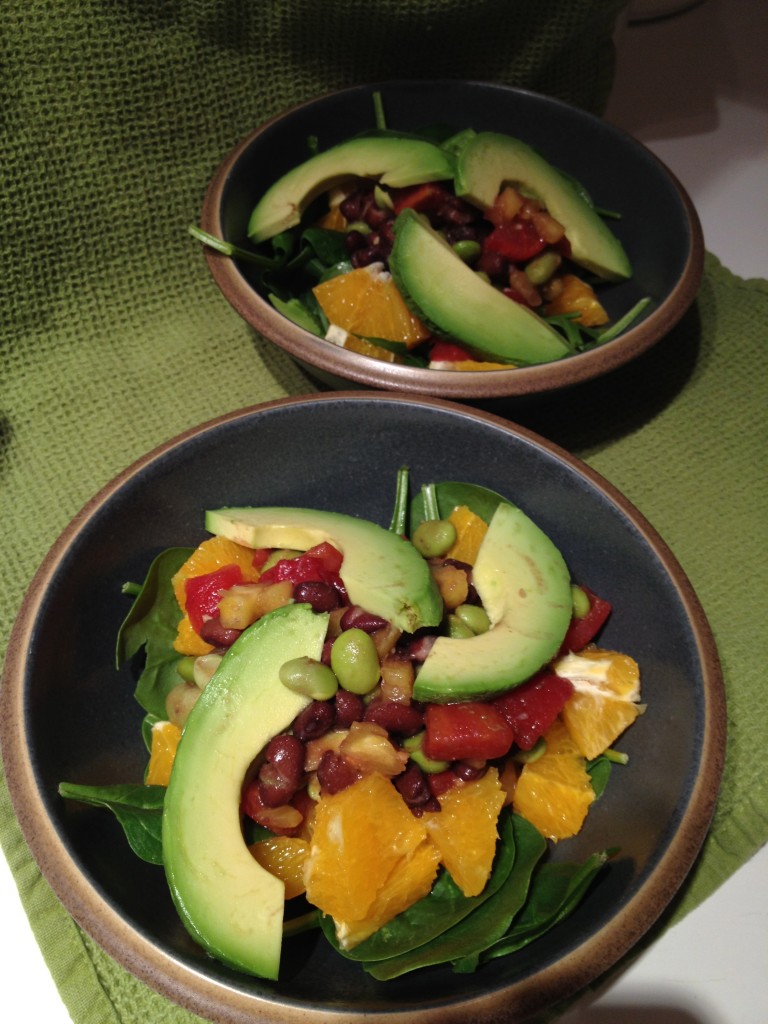 The recipe for the salad is as follows:
1 can black beans
1 can diced tomatoes
fresh pineapple
avocado
cumin, garlic, salt & pepper
*She also added some edamame to the salad which was a nice flavor and texture variation along with an extra blast of protein.
We decided to serve the salad on a bed of baby spinach with some sliced up oranges.  All in all, this salad is a great combination of flavors, and something that I will be making in the very near future!  As a matter of fact, I've already listed the ingredients on this week's grocery list.
I will also say that the appearance of this salad and note made me think about the reality ahead with a new baby in the house, and the fact that soon I probably WILL be too tired to cook for a while…  So last weekend I went into somewhat of a cooking frenzy, preparing meals for this week and the freezer: homemade lasagne, baked beans, macaroni and cheese, meatballs, and pulled buffalo chicken to add to the soups I had already prepared ahead.