This year, for the holidays, I made only one batch of sugar cookies.  Instead of using the traditional recipe, I made a few modifications which included adding cocoa, ground cinnamon, ground chipotle, and ground cayenne to the batter.  These cookies had a sweet and spicy flavor that made them interesting and satisfying without overindulging.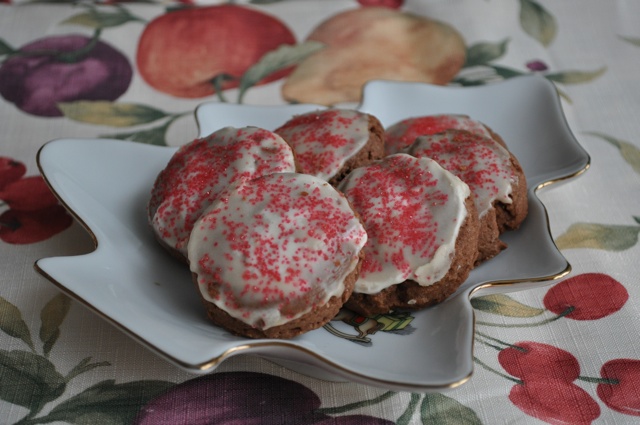 Chocolate Spice Sugar Cookies
1 c. softened butter
3/4 c. confectioners sugar
1 egg yolk
2 tsp vanilla extract
2 1/4 c. flour
1/4 c. cocoa powder
1 tsp. cinnamon
1/8 tsp. ground cayenne
1/8 tsp. ground chipotle
1-Preheat oven to  375 degrees.
2-Mix butter and sugar, then beat in egg yolk and vanilla.  Sift together dry ingredients, then combine with the wet ingredients to form dough.
3-Use a cookie scoop, or form into 1 tbsp. size balls, flatten slightly, and bake for 13-15 minutes.
*Optional:  The recipe for the glaze on these cookies, as shown, can be found on a previous blog post titled Holiday Sweets.