This creation came about due to the fact that I had half a bag of orzo sitting in the cupboard, and baby spinach sitting in the refrigerator that I had purchased for a recipe I didn't end up making.  All in all, it made for an easy lunch and something I'll make again!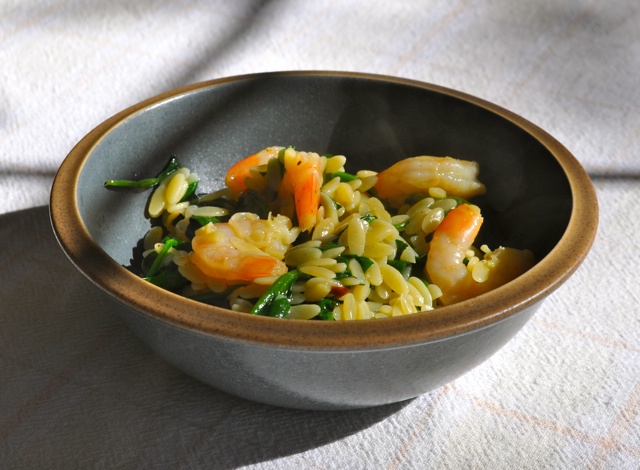 Garlic Shrimp with Orzo and Baby Spinach
(Serves 2 – 3 people)
1/2 bag

of

orzo

, boiled according to package directions and drained

2-4 cloves

of

garlic

2 tbsp.

butter

1/4 tsp.

crushed red pepper

1/2 lb

of

shrimp

1 package

of

baby spinach

*Optional:

herbal oil

such as Streaked Mountain Herbs & Crafts Heaps of Herbs Oil.
Melt butter in a large heavy bottomed pan, and cook garlic over medium heat.  Add crushed red pepper and shrimp.  Meanwhile boil the orzo.  Remove the shrimp and garlic pan from the heat if the shrimp appears to be cooked before the orzo is ready.
Add the orzo and baby spinach to the pan and cover.  Cook, stirring occasionally, until the spinach is wilted but not soggy.  Finish with a drizzle of herbal oil, or garnish with fresh basil and oregano if available.