A couple of weeks ago I tried my hand at cheese-making, something I was a little nervous about trying at home without having taken a class to guide me in the right direction.  Fortunately a course was offered at The Nutrition Center of Maine through Lewiston Adult Education.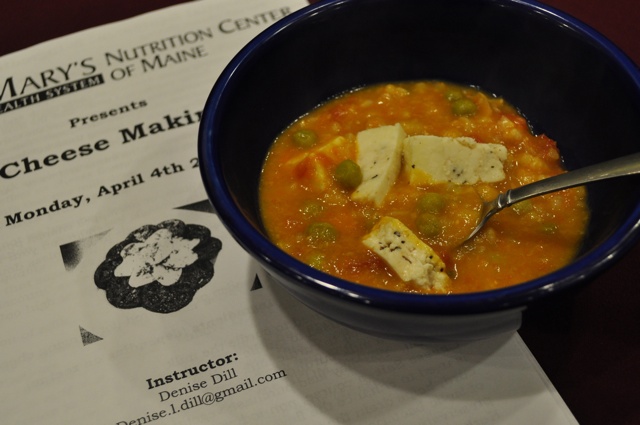 This was definitely my kind of class!  Not only did I learn how to make a few varieties of cheese, but I enjoyed sampling a lovely array of munchies including carrots with homemade yogurt cheese, goat cheese with crackers, and a homemade mulligatawny soup with paneer.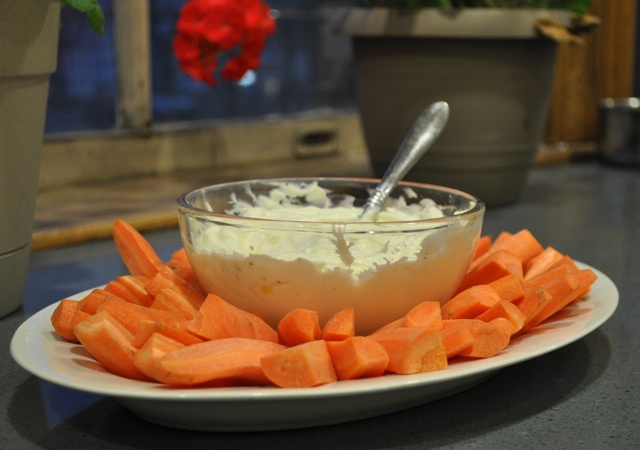 The yogurt cheese reminded me of Greek yogurt seasoned with garlic and herbs to make a dip.  It was very tasty, and I found myself wandering back for carrots and dip several times during class.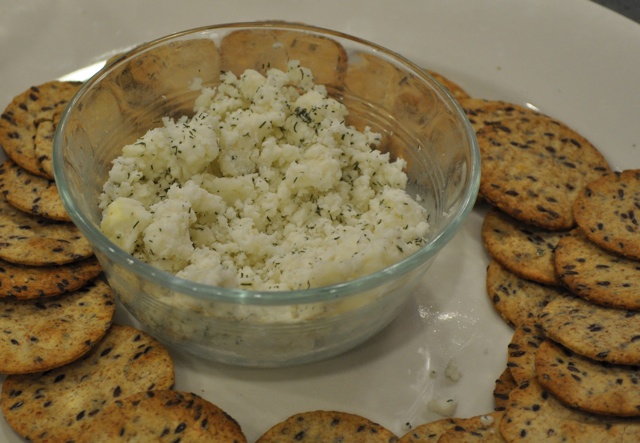 We sampled some homemade goat cheese with crackers.  This was seasoned with rosemary, and was not nearly as tangy as store-bought goat cheese.  This snack tray also kept drawing me back for one more…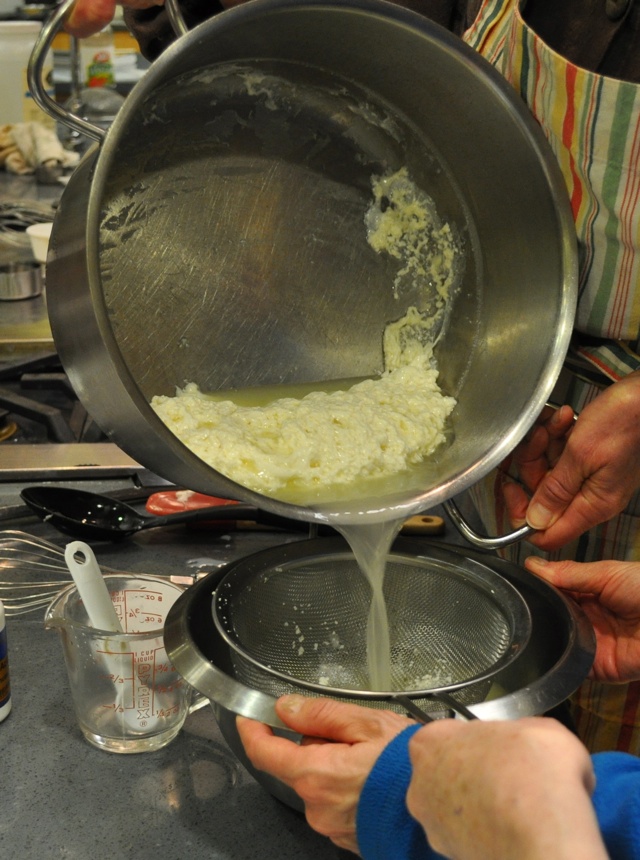 One thing I learned about cheese-making is that it takes a lot of milk to make a little bit of cheese.  After heating a large pot of raw milk, adding curdling agents, and a little careful stirring, we were able to pour off the whey and gather the curds to make our first batch of homemade cheese in class.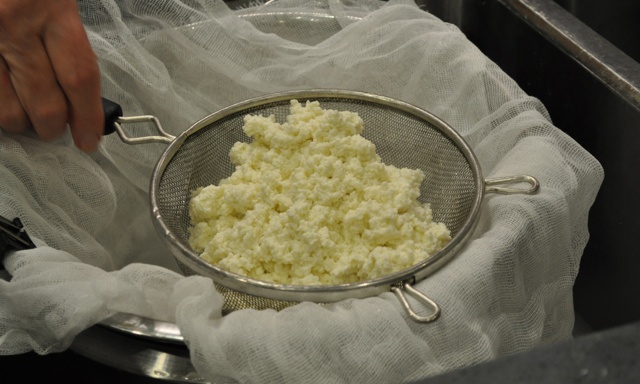 We drained the curds and added rosemary, sea salt and pepper to this batch, then bound it tightly in cheese cloth to press out as much whey as we could.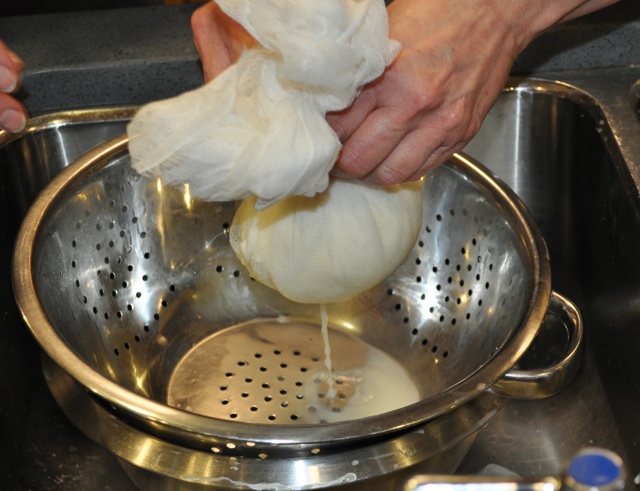 While waiting for this first batch of cheese (paneer) to set, we started a batch of fresh mozzarella.  The beginning of the process was similar to that of the paneer, but there were some differences which resulted in a very different texture and flavor in the resulting product.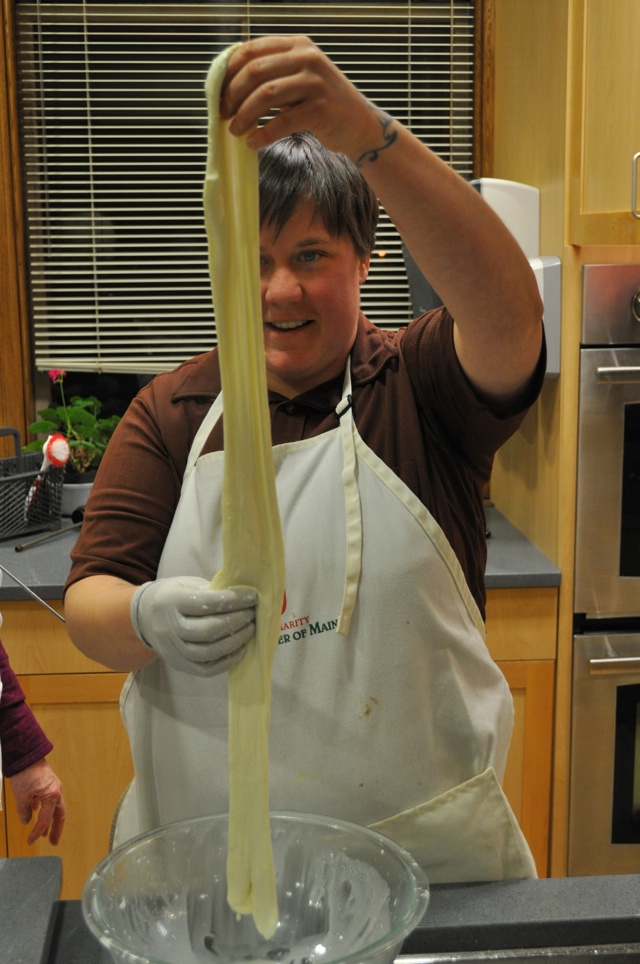 This batch of mozzarella was very stretchy, as mozzarella should be!  It was delicious eaten fresh while still warm.  It would also be excellent layered with fresh garden tomatoes, basil and a drizzle of balsamic vinegar on a bed of baby spinach.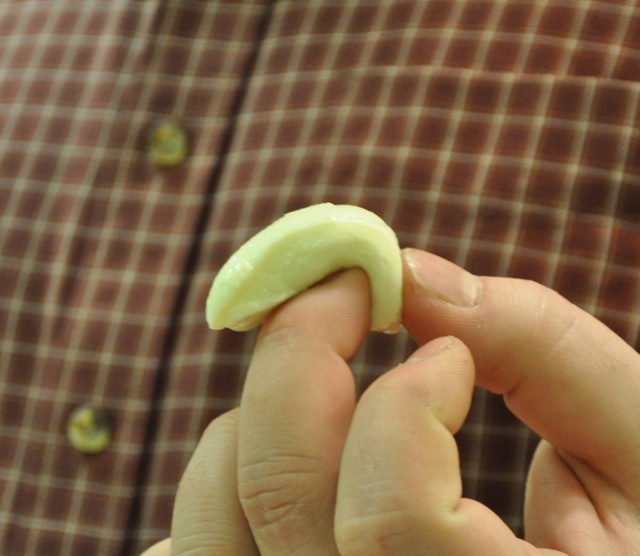 It is hard to say which of the cheeses I enjoyed most.  I loved the flavor of the fresh mozzarella, but the seasonings and texture of the fresh paneer (below) were also quite nice.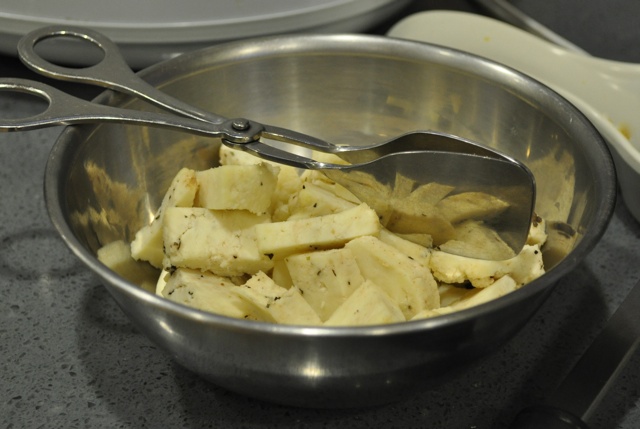 From this experience, I have gained a whole new appreciation for cheese.  Now to try making some at home…