For my birthday, one of my teaching partners gave me a bottle of Thai curry sauce, Jasmine rice, and some other goodies from Trader Joe's.  I finally put the curry sauce and rice to use for an easy dinner in.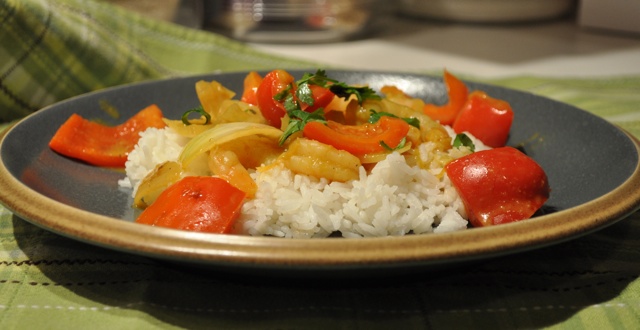 This Thai Curry Shrimp dinner was just as good as any Thai takeout, and was so easy to make.  All I needed to do was chop an onion and a few red peppers, saute in a little olive oil, then I added the bottle of sauce and about a pound of shrimp and simmered until the shrimp was cooked.  The rice cooked up more quickly than other varieties of rice I've made at home, which added to the ease of this dinner.
Garnish with a little fresh cilantro, and serve with chili sauce to kick up the spice a little as desired.