These pancakes transformed to an interesting shade of blue while cooking, which made me suspect that raspberries must have anthocyanins, the chemicals present in red cabbage, making it perfect for use as a pH indicator!  Next time I might try using a bit less baking soda in the pancake batter to prevent this change.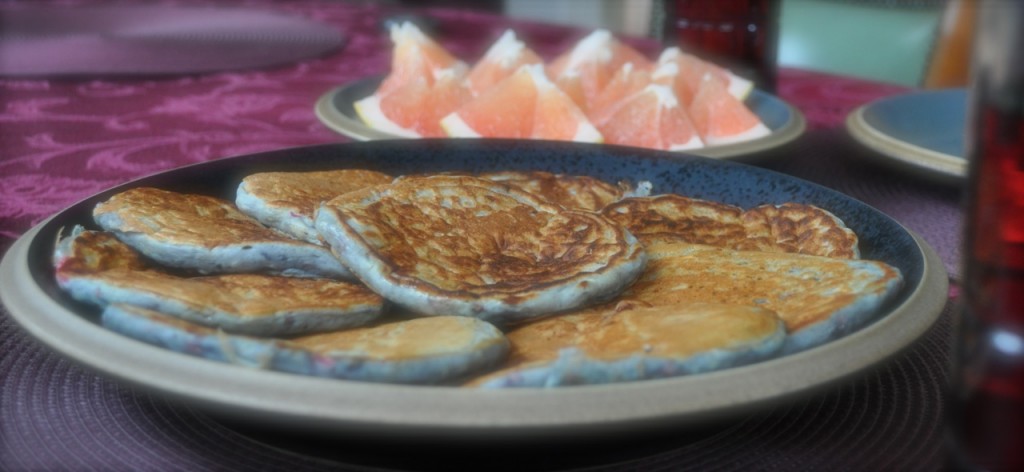 Raspberry Pancakes
1 1/2 c.

flour

1 tsp.

salt

1 tsp.

baking soda

1

egg

(or 2 egg whites)

1 1/4 c.

buttermilk

1/2 c.

fresh

raspberries

, or frozen (thawed)
Prep Time: It should take about 10 minutes to prepare the batter.
Heat a non-stick pan on medium heat.  Mix dry ingredients in a large bowl.  Add egg, buttermilk and raspberries (including juice if there is any left from thawing), and stir only until mixed.  The batter will be lumpy.  Add a small amount of butter to the pan, and cook the pancakes (1/4 to 1/2 c. of batter per pancake) on one side until the edges begin to look dry and bubbles form on the top, then flip to cook the other side for 30 seconds to 1 minute or until golden.