On one of our February "stay-cation" mornings, we decided to have brunch at Pastiche to fuel up for a snowshoe hike.  Located near the Auburn post office, Pastiche is the "original home of the double yolker" and offers delicious and very filling breakfast and brunch menu items in its restaurant.
I ordered the Shamrock Special, which consisted of two double yolkers, homemade corned beef hash, homefries and toast.  The corned beef hash was seasoned with an interesting mix of spices, reminiscent of those used in making tourtière.  I'm fairly certain that there was enough breakfast on my plate to satisfy two lumberjacks, but I managed to make a dent in it, and brought most of my homefries home.  Next time, I'll probably order a single double yolker, since I don't think I could ever really eat the equivalent of four eggs.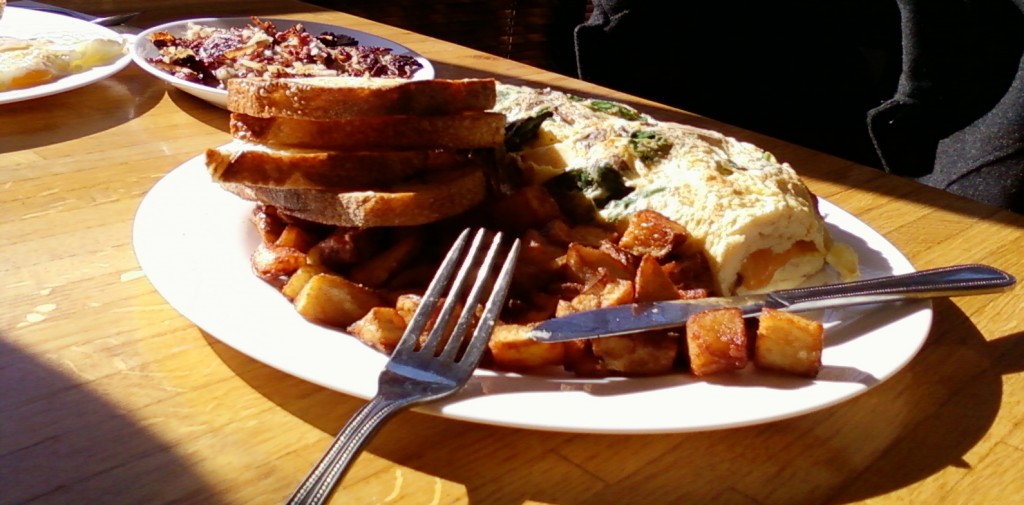 The spinach, mushroom and cheddar omelet my husband ordered was a "full sized" omelet made with four double-yolkers.  You do the math.  Let's just say he enjoyed some of it at brunch, and we shared the rest of it for lunch the next day at home, along with a mountain of homefries.  Next time I think he will order a half sized omelet, though I have to say I enjoyed the easy (and delicious) lunch his leftovers provided…
In addition to an excellent brunch, Pastiche offers a full "Kosher Style" deli for take-out orders, and also specializes in hand crafted chocolates, fudge, truffles, pastries, and cakes.  The cupcakes look delicious, and are probably the closest to Molly's Cupcakes I'll get until we go back to Chicago one of these days.
For more information about Pastiche and its varied offerings:
http://www.sunjournal.com/business/story/963706