This year for Christmas, my parents gave me a mini popover pan, knowing that I love popovers but have not had prior success in making them myself.  In an attempt to get it right this time around, I called my grandmother, Sharpie in hand, and wrote her recipe on the outside of the pan's packaging as she recited the ingredients and methods.

The popovers were a success! They were crispy on the outside, while soft and eggy with lots of air pockets on the inside.  While there were probably several variables involved in my lack of success in previous attempts, I think the key step I was missing was to heat the popover pan empty in the oven for a few minutes before pouring the batter into it.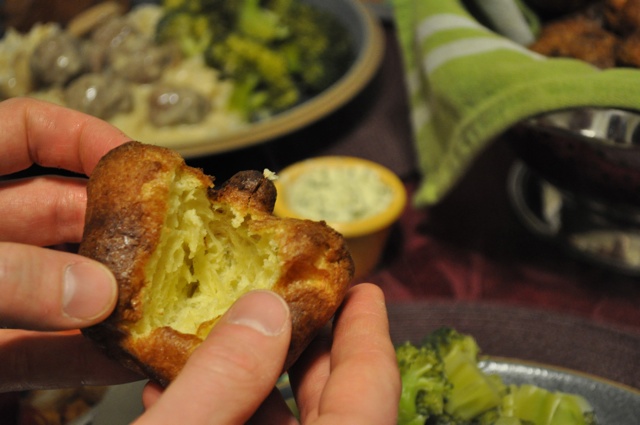 Memere's Popover Recipe
(makes 6 regular sized, or 12 miniature popovers)
1 c. whole milk
3 eggs, beaten
1/8 tsp. salt
1 c. flour
Pam Butter Flavored Cooking Spray
Preheat oven to 450 degrees.  Generously spray the popover pan and set aside.  Beat eggs and mix in milk with a whisk.  Add dry ingredients, but do not overdo the mixing.  (I mixed until all of the flour was moistened and there were a few lumps still, but this batter was not as lumpy as pancake batter should be.)
When the oven has reached 450 degrees, heat the empty popover pan for a few minutes, then remove and fill each of the baking cups to about 2/3 full, being careful to divide the batter among all of the baking cups.  Bake at 450 for 20 minutes, then reduce heat to 350 for up to 15 minutes, watching carefully so that they do not burn.