I made this dish as a Thanksgiving side dish several years ago, but lost the original recipe.  Last weekend I tried my best to recreate it and wrote down all of the ingredients and steps.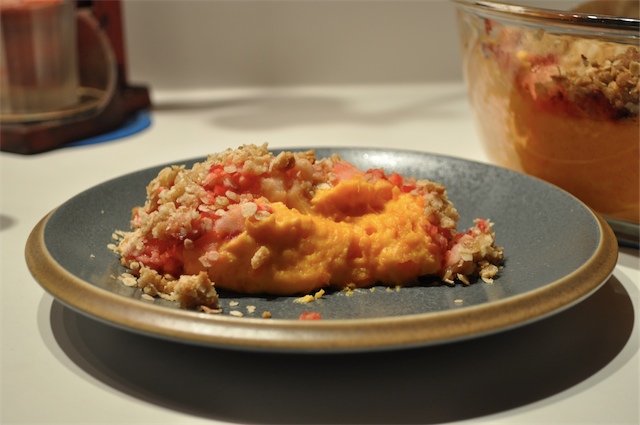 Sweet Potato Crisp
4 sweet potatoes
1/2 block of light cream cheese
2 apples
1 c. fresh cranberries
1/2 stick butter
1/2 c. light brown sugar
1/2 c. rolled oats
1/2 c. flour
Cut sweet potatoes in half lengthwise, pierce the skin, and bake at 350 skin side up on parchment paper on a cookie sheet for about 40 minutes or until soft when poked with a knife.  Remove sweet potatoes from the oven, and turn them over as shown below to allow the heat to escape more quickly.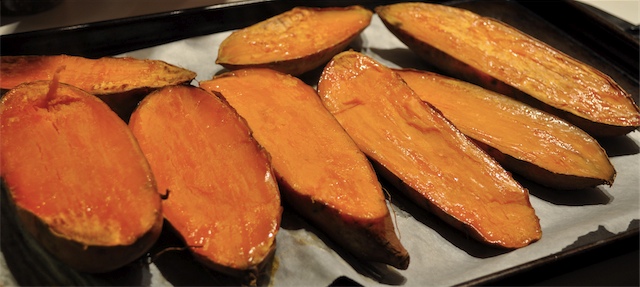 After the sweet potatoes cool, remove the skins, and put the potatoes into the bowl of a mixer with the cream cheese.  Whip the sweet potatoes and cream cheese until fluffy, then transfer to a buttered baking dish, flattening the surface of the potatoes and set aside.
Peel, and core the apples and place the apple pieces and cranberries in a food processor to coarsely chop the fruits.  Layer the chopped fruit on top of the sweet potatoes in the baking dish.
Next, melt the butter and combine with the flour, sugar, and oats, mixing well.  Sprinkle this topping over the apple-cranberry mixture and bake the casserole at 350 degrees for about 40 minutes or until the topping has reached a deep golden color.