Whenever I make this recipe I think of the friends who shared this recipe with me.  I received it in the form of a hand-written recipe card inside a recipe book that was presented to me at my bridal shower.  I didn't try making the recipe right away, and wasn't sure what to expect…  Then at my friend's college graduation party, her mother made a batch.  I wasn't sure what it was until I tasted it, and realized at that moment that it would become a favorite recipe in my home as well!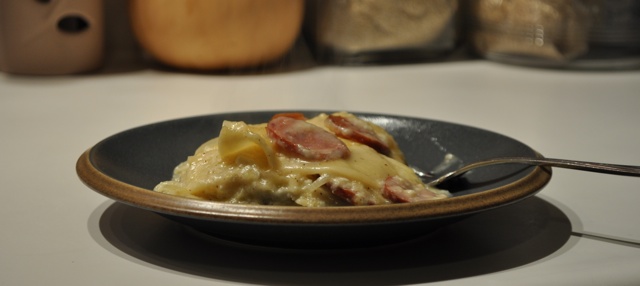 German Lasagne
3/4 c. butter or margarine (I use 1/2 c. and it works fine)
3/4 c. flour
1 tbsp. beef bouillion (optional)
2 tsp. onion salt (I use onion powder)
2 tsp. pepper
2 1/4 c. milk
1 can chicken broth
1 lb. kielbasa, chopped
2 eggs
12 oz. cottage cheese
9 cooked lasagne noodles (I use the ones that do not need to be boiled)
16 oz. sauerkraut (I use Morse's Sauerkraut), drained
2 c. shredded Monterey Jack cheese
1)  Melt butter.  Stir in flour, bouillon, onion powder and 1 tsp. pepper until smooth. Stir in milk and broth and bring to a boil, stirring until thickened.  Add kielbasa.
2)  In a separate bowl, beat eggs and combine with cottage cheese and remaining pepper.
3)  Spread one cup sausage mixture into the bottom of a 9 x 13 baking dish.  Layer noodles, sausage mixture, egg/cottage cheese mixture, sauerkraut, and monterey jack.  Repeat, ending with sausage mixture.
4)  Reserve about 3/4 c. of monterey jack for after baking.  Bake covered at 350 degrees for 50-60 minutes.  Sprinkle with remaining monterey jack and bake 5 more minutes.  Let stand 15 minutes before serving.