I've been meaning to try making the Frijoles Borrachos recipe in my Maui Tacos Cookbook, and finally got around to it last weekend.  I like that this recipe has a lot of added flavors including fresh tomatoes, garlic, cilantro, onions and hot peppers.  These beans paired nicely with homemade blue corn tortillas.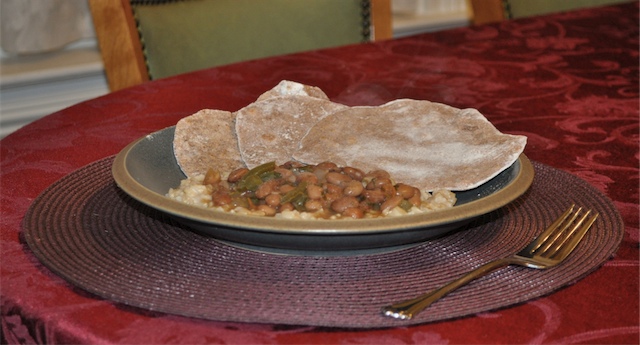 The recipe for Frijoles Borrachos (a.k.a. Sergio's Drunken Beans) can be found on Google Books, though this cookbook is worth having a real copy of.  I found the corn tortillas recipe was in a packet of recipes from the University of Maine Cooperative Extension.
Corn Tortillas
(makes 8 tortillas)
1/2 c. cornmeal
3/4 c. boiling water
1 tbsp. oil
1/4 tsp. salt
1/4 tsp. baking powder
1/2 c. whole wheat flour
1/2 c. white flour
Pour boiling water over cornmeal, stir, and let sit for about 10 minutes.  Add the oil, salt, and baking powder, stirring.  Then add the wheat and white flour and knead until well combined.  Separate the dough into 8 somewhat equally sized balls.  Roll each ball flat between two pieces of wax paper.  (Be sure to put a little flour on the bottom piece of wax paper and also on top of the dough ball to avoid having it stick to the wax paper).  Cook tortillas in a hot pan for a couple of minutes on each side.  Keep cooked tortillas warm in a plate covered with aluminum foil.