A few days ago I stumbled upon a blog called Fragrant Vanilla Cake, and was inspired by a vegan ice cream recipe that made use of fresh pears.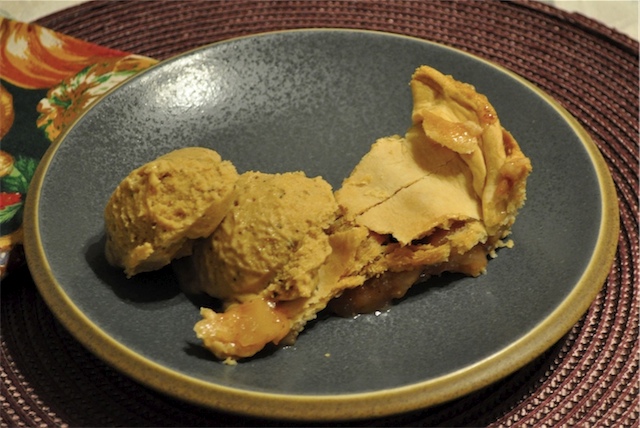 I did modify the recipe in a few ways based on the ingredients I had available, and the results were pretty tasty with warm apple pie.  As modified, it is not vegan as there is some milk and butter in the caramel sauce I used as sweetener.
Coconut Spiced Roasted Pear Ice Cream
3 pears, diced
1 can of light coconut milk (I used Thai Kitchen)
1/4 c. Marzetti Old Fashioned Caramel Dip
1 1/2 tsp. pure vanilla extract
1/4 tsp. ground ginger
1/4 tsp. coriander seeds
1/4 tsp. salt
1. Roast the diced pears in the oven at 400 degrees for about 20 minutes or until soft.
2. Combine the roasted pears, coriander seeds, ground ginger and caramel dip in a food processor, adding a little coconut milk to help puree the ingredients.  Once the mixture is well blended, slowly add the remaining coconut milk.
3.  Chill in the refrigerator for a couple of hours, then freeze in an ice cream maker.  The ice cream will be very soft, but two hours in the freezer will help it to solidify to a nice scoopable consistency.