This Valentine's Day, instead of fighting the crowds at the local restaurants, we opted for a stop at Whole Foods to pick up ingredients for dinner in.  We didn't have a plan, or a list, but instead looked for ingredients that would be healthful and interesting.  The first item I picked up was a bunch of kale.  This is a green vegetable that I was introduced to a couple of summers ago when we had a share in a local CSA program with Summit Springs Farm in Poland, Maine.  We like it roasted, as well as in soups.  Paired with roasted garlic & olive bread, this soup made a nice starter for our special dinner in.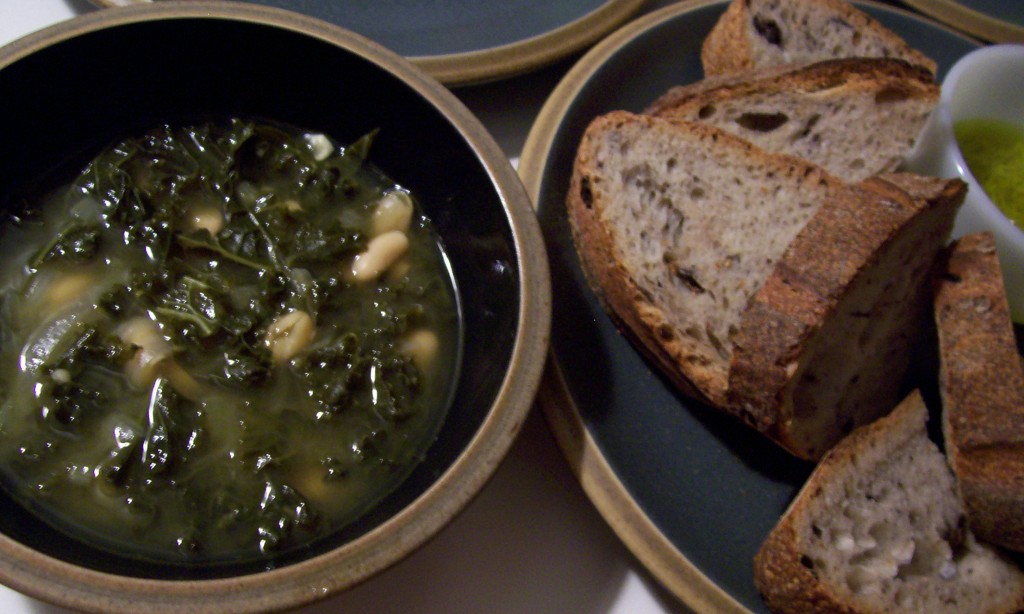 Kale Soup Recipe
1 tbs. olive oil
2 cloves garlic, minced
1 small onion, minced
1 bunch of kale, leaves chopped
2 c. vegetable broth
2 c. water (approximately)
1 can of white cannellini beans, drained and rinsed (optional)
1/2 tsp. Cavender's Greek Seasoning
Saute garlic and onion over medium-high heat until onion is transparent, then add kale.  Saute about 2 minutes, then add broth.  Add water (2 c. or enough to cover the kale) and Greek Seasoning and simmer about 15 minutes.  Add the beans, and simmer another 10-20 minutes.  Season to taste with more Greek Seasoning, black pepper, or hot sauce.