Tarte au Sirop d' Érable (English translation: Maple Syrup Pie) is by far one of the foods that must be had while visiting the province of Quebec.  Each time I have visited Quebec City, I have made it a point to have one meal at Restaurant Aux Anciens Canadiens.  Their table d'hote option at lunch time is reasonably priced (about half the price of an average dinner on their menu) and includes soup, main entree of choice, a dessert of choice, a glass of house wine or beer, and coffee or tea.  In addition to enjoying an authentic French Canadian meal, visiting Restaurant Aux Anciens Canadiens is like traveling back in time as it is a beautiful old historic building.
Another dining establishment that we make sure to AT LEAST visit for their maple sugar pie is Le Cochon Dingue (English translation: The Crazy Pig).  The name, in English, is a bit of a turnoff, but the food is delicious.  There are a few locations in Quebec, but the one in the Petit Champlain district is the one we have visited.  My favorite dish there was the Mussels Trio which consisted of three silver dishes full of mussels, each with its own flavorful sauce and a side of fries with homemade mayonaise.  The maple sugar pie at Le Cochon Dingue is quite different from the one at Restaurant Aux Anciens Canadiens, but it is amazing in its own way.
It has now been about two years since my last visit to Quebec, and I am seriously craving Tarte au Sirop d' Érable, so I've decided to attempt making my own at home.  I was excited to find a recipe at epicurious.com that was recommended by a person who also enjoyed the Tarte au Sirop d' Érable at Restaurant Aux Anciens Canadiens.  The same recipe also turned up at iBackpackCanada so I've decided to give it a try!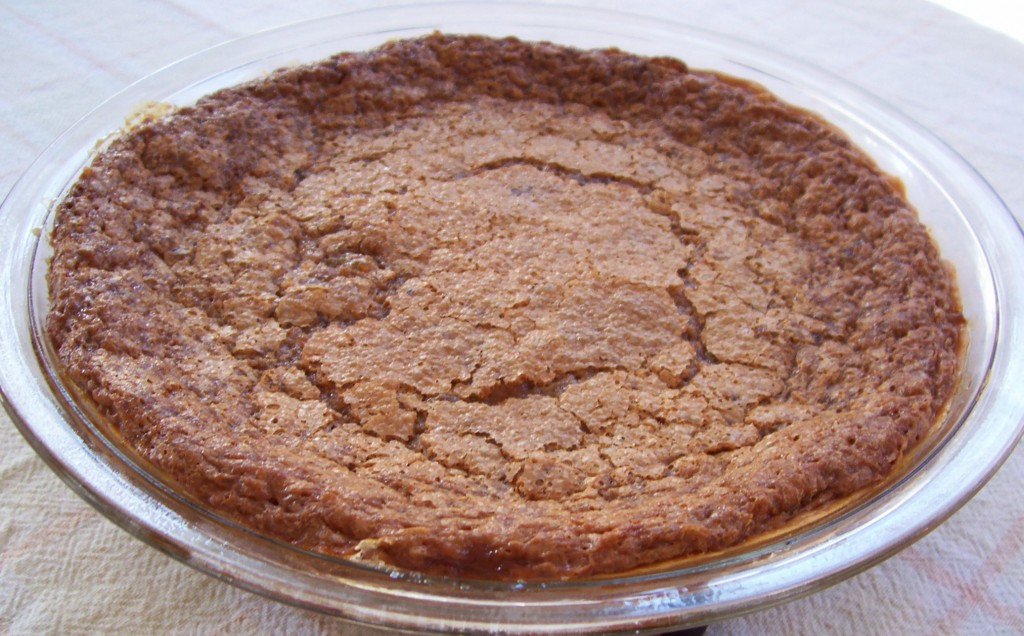 I was happy with the general appearance of this pie, though some of the filling leaked around the edges of the crust, causing it to stick to the pie plate.  Next time I will leave a higher edge on the pie crust to prevent this issue.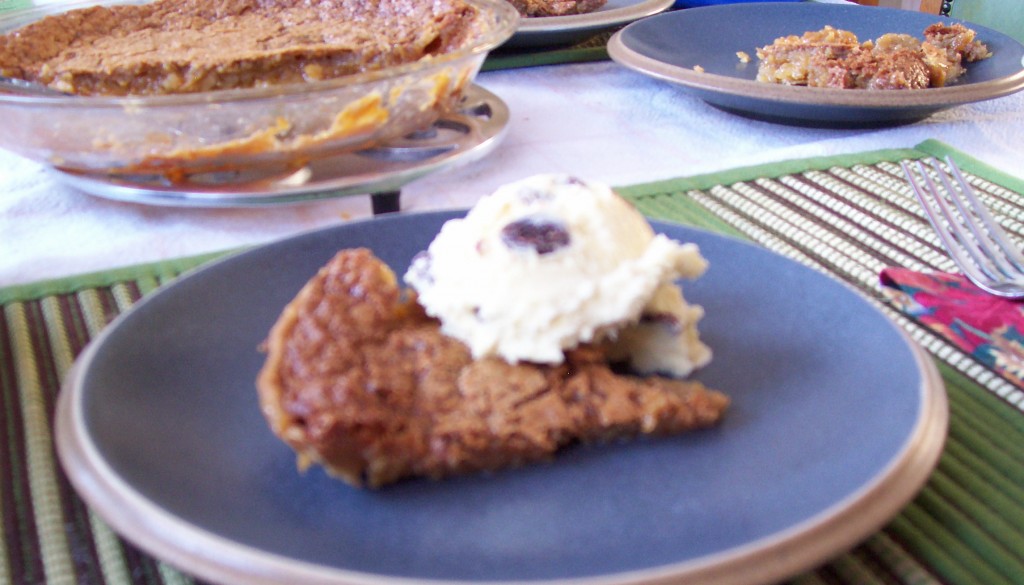 We were very happy with the taste results–very similar to the pie we had at Restaurant Aux Anciens Canadiens; thin and very sweet with crisp top and gooey, mapley insides…  Served with homemade rum raisin ice cream.  Coffee or tea (unsweetened) is highly recommended with this rich dessert.