This root vegetable risotto was inspired by one that I tried at Bull Feeney's restaurant.  Risotto is fairly easy to make, and it is wonderful winter comfort food.

Root Vegetable Risotto
1/2 c. pearl barley
1/4 c. brown rice
1/4 c. long grain white rice, or arborio rice
1 small onion, minced
3 cloves of garlic, minced
2 parsnips, cut into small cubes (about 2 c.)
1 c. of carrots, cut into small cubes
2 tbsp. butter
2 tbsp. olive oil
1 c. white wine
2 1/2 c. vegetable broth
2 c. water
1/3 c. whole milk
1/3 c. shredded parmesan
Boil pearl barley in salted water, about 20 minutes, then drain and set aside.  Meanwhile mix the broth and water in a small sauce pan, and warm it over medium-low heat.  Once the broth starts steaming, reduce heat to low, and keep warm for use in later steps.
Combine butter and olive oil in pan, and heat to melt butter.  Add onion and garlic, and cook over medium-high heat until the onion is transparent.  Add the root vegetables, and continue cooking about 5 minutes, stirring frequently. The carrots and parsnips should get a little browned, but not burned.
Add the barley and rice and stir while cooking for about 3-5 minutes.  The rice should begin to turn a golden color.  Then add the wine, stirring until absorbed.   Add a cup of broth-water mixture, and stir occasionally until absorbed.  When the broth-water mixture is absorbed, add another cup and continue this process until all broth-water has been added and absorbed.
Add the milk and parmesan, continuing to stir to prevent the risotto from sticking to the bottom of the pan.   Season with black pepper.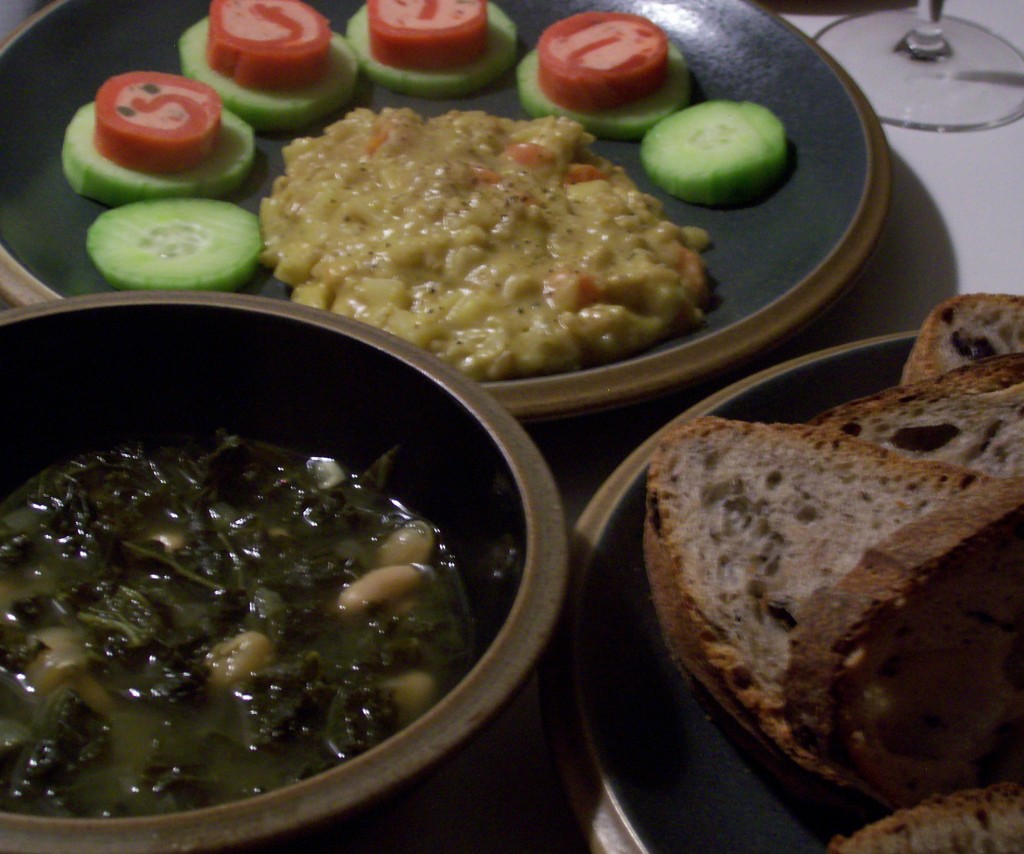 We enjoyed our risotto with a hearty kale soup, salmon pinwheels on cucumber slices, and some fresh bread with garlic dipping oil.  This risotto would also be a nice side with fish or chicken.