Now that I've tried roasting asparagus, I don't think I'll ever steam it again.  It was easy to prepare, far more flavorful than the steamed version, and even a little crisp.  To prepare, trim the asparagus, and toss it with a small amount of olive oil–just enough to lightly coat the asparagus.  Sprinkle with salt and pepper and roast in the oven at 425 degrees for 10-15 minutes, turning about half way through the cooking time.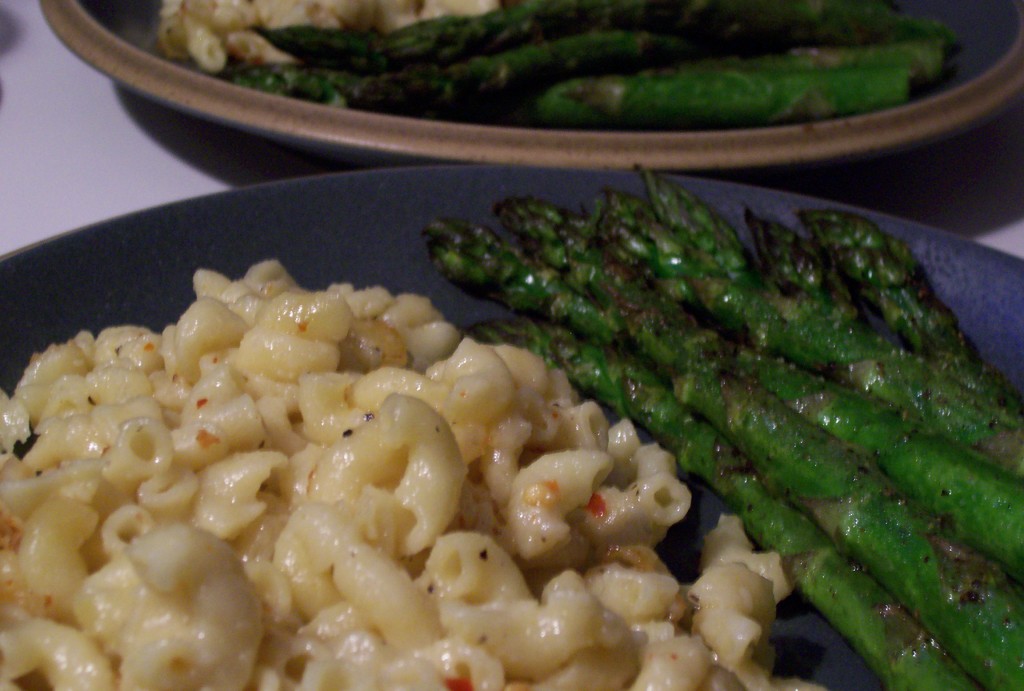 This homemade macaroni and cheese recipe is a great way to sneak a little more skim milk into dinner, and it's a much lighter version than some recipes I've tried in the past, without sacrificing flavor.
Spicy Mac & Cheese
1 box of elbow macaroni
3 tbsp. butter
1/4 c. flour
3 c. skim milk
8 oz. extra sharp cheddar, cubed
1 tsp. ground black pepper
1-2 tsp. crushed red pepper
In a small sauce pan, melt the butter over low heat.  Brush a small amount of the melted butter on the bottom and sides of a large casserole dish, and set casserole dish aside.  Next, add the flour to the remaining butter, whisking until smooth.  Add 1 cup of skim milk to the butter/flour mixture a little at a time, whisking until smooth.  Increase heat to Medium.  Continue whisking the milk mixture, and add the pepper and crushed red pepper.
When the milk mixture thickens and begins to steam, add another cup of milk, whisking until smooth.  Continue this process until all three cups of milk have been combined and the mixture is steaming and thickened slightly.  Add the cheese to the milk mixture, whisking until all cheese is melted.  Reduce heat to medium-low, but continue whisking periodically so that the cheese mixture does not stick to the bottom of the pan.  This cheese sauce will thicken a bit more while the macaroni is cooking.
Boil the macaroni to partially cook it, about half the recommended cooking time, then drain and pour into the casserole dish.  Pour the cheese mixture over the macaroni.  It should pretty much cover the macaroni, and will look a little soupy.  Bake at 350, stirring after 30 minutes.  Return to oven and bake another 20-30 minutes, until macaroni has reached desired consistency, and the cheese mixture has thickened/absorbed into the macaroni.