This soup was inspired by two things:
1) I had 8 potatoes that needed to be used, pronto!
2)  I have been craving the beer cheese soup served The Run of the Mill Public House.
The beer cheese soup at The Run of the Mill is amazing.  They make it every day with different types of cheeses and different types of beer, so each time it's a little different, but always delicious.  I like that they serve it with pretzels–the perfect garnish!
My version of the soup involves potatoes to give it heft with a lot less saturated fat than the real deal… I'll admit, it doesn't exactly look appetizing, but really is flavorful…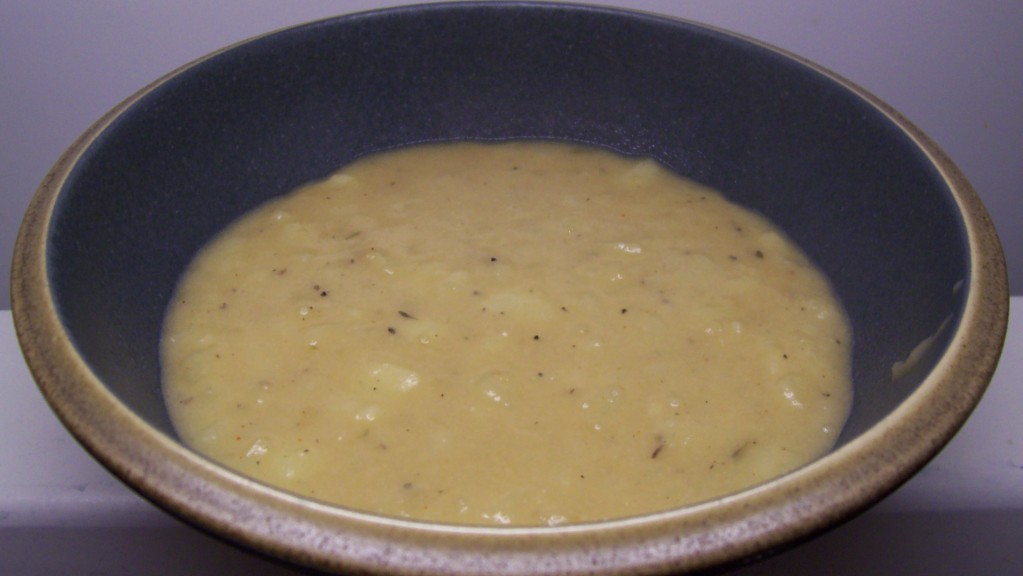 Potato Beer Cheese Soup
2 tbsp. butter
1 small onion, minced
2 tbsp. flour
2 c. skim milk
2 c. chicken broth
8 small to medium potatoes
1 bottle of beer (the darker, the better)
1 tsp. black pepper
1/2 tsp. dried thyme
1/4 tsp. garlic powder
1/4 tsp. ground cayenne pepper
4 oz. extra sharp cheddar (Cabot's Hunter's Seriously Sharp works well)
Melt the butter in a large cooking pot.  Cook the onions over medium heat until transparent.  Add flour to make a smooth paste, then slowly add the milk, whisking constantly.  Whisk in the broth, then add the potatoes.  Simmer until the potatoes are soft, then mash slightly, leaving some chunks for texture.  If you prefer a smoother soup, process in batches in a blender or food processor.  You may want to add more broth at this time if the soup is too thick.  Whisk in the cheese and seasonings and simmer another 10 minutes before serving.
Reheat any leftovers on the stove rather than the microwave, adding more broth if needed.