This chili recipe is loosely based on a recipe that a friend shared with me from The Joy of Cooking cookbook.  Since trying the recipe (and losing the paper copy of it that I had) I have made several more batches of chili using some of the ingredients and techniques I learned from the recipe.  I've also made a few modifications.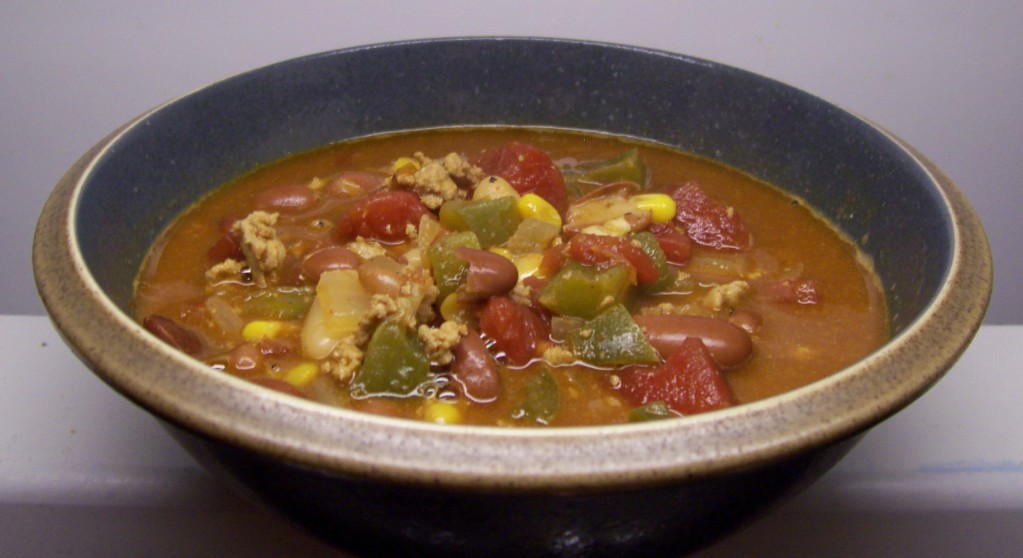 Ingredients
1 lb. ground turkey
2 bottles of oatmeal stout or other dark beer
2 small onions, minced
1 large green pepper, chopped
4-6 cloves of garlic, minced
2  14 oz. cans of diced tomatoes
*1 can of great northern beans (or white cannelini beans)
*1 can of dark red kidney beans
*1 can of small pink beans
*1 can of corn
6 tbsp. dark chili powder
1 tbsp. ground black pepper
1-2 tsp. ground chipotle chili powder
1-2 tsp. cumin
1/2 c. pearled barley (reserve for last hour of cooking)
*Do not drain the beans or corn–the liquid adds flavor and seems to thicken the chili.
1.  In a large pot, cook the onion, garlic, and green pepper in a small amount of cooking oil over medium-high heat.
2.  Add ground turkey to the pot, and scramble, cooking until browned slightly.  Then add one bottle of the oatmeal stout, stirring until it stops bubbling.  Reserve the second bottle to add in the last hour of cooking.
3.  Add all other ingredients, stir well, and cook over medium heat for about an hour, stirring occasionally.  This chili is best when simmered for several hours over low heat, or even stored overnight in the refrigerator and reheated on the stove a day or two later.
4.  An hour before serving, add the second bottle of oatmeal stout.  Stir in the pearled barley at this time.  Cook at least one more hour, until barley is cooked to desired consistency.