Yesterday we had a wonderful meal with Mom & Dad before trimming their tree.  They made a family favorite–pork loin cooked all night in the Crock Pot with sliced onions and Harvey's Bristol Cream Sherry.  Another variation that works nicely is to add several chopped apples to the Crock Pot during the second half of the cooking time, or at the start of the cooking time when baking in the oven in a covered clay dish.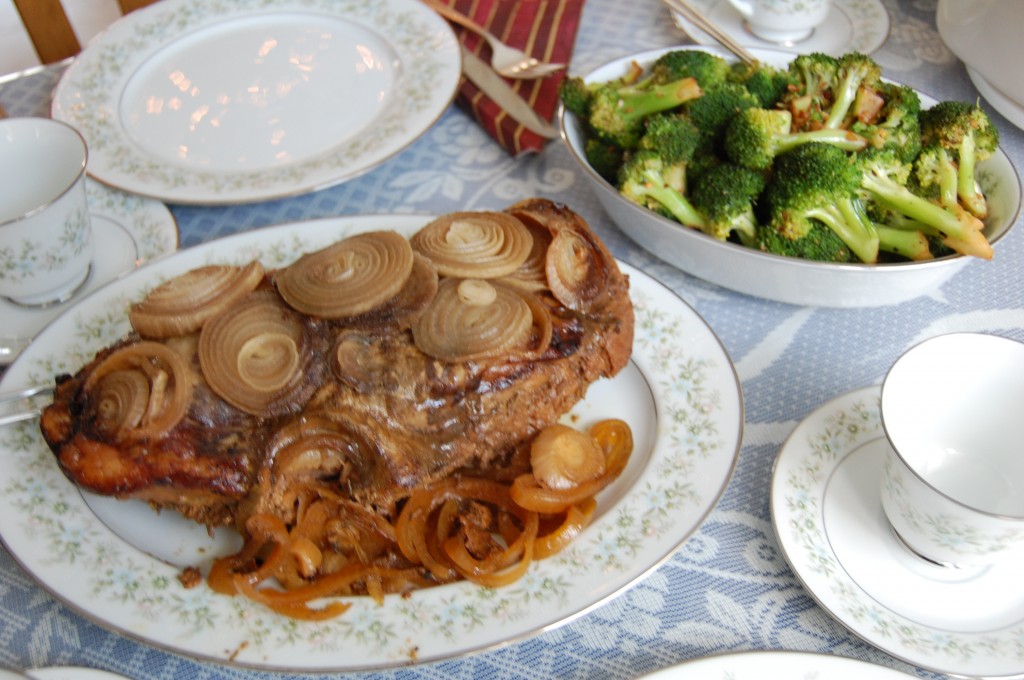 Recipe
1 pork loin
2 large onions, sliced
2 large green apples, cubed (optional)
1 c. sherry (NOT cooking sherry–too salty!)
Bake in the oven at 325 degrees in a covered clay dish, about 2 hours or until pork reaches 160 degrees at the center.  When it's done, it will begin to fall apart.  The other option is to cook it overnight in the crock pot on low.
The broccoli side dish is simple, and can even make an easy dinner when tossed with pasta.  To prepare the garlic pepper broccoli, stirfry 3-4 cloves of minced garlic, and about 1/2 tsp crushed red pepper in 2 tbs olive oil for a few minutes.  Add the broccoli and stirfry until cooked to your liking.  Squeeze fresh lemon juice or a pour a little white wine in during the last few minutes of cooking.