The last time I shopped at Ikea, I was tempted to try their Swedish meatballs.  I'm not sure why…  Instead I stayed focused on the furniture items we were seeking out, and we left without meatballs. Has anyone actually tried the Ikea Swedish Meatballs, and if so, what did you think?  I still feel somewhat obligated to try them one of these days, but after that visit I felt it necessary to make a batch at home, using a very simple recipe my mom used to make when I was a kid.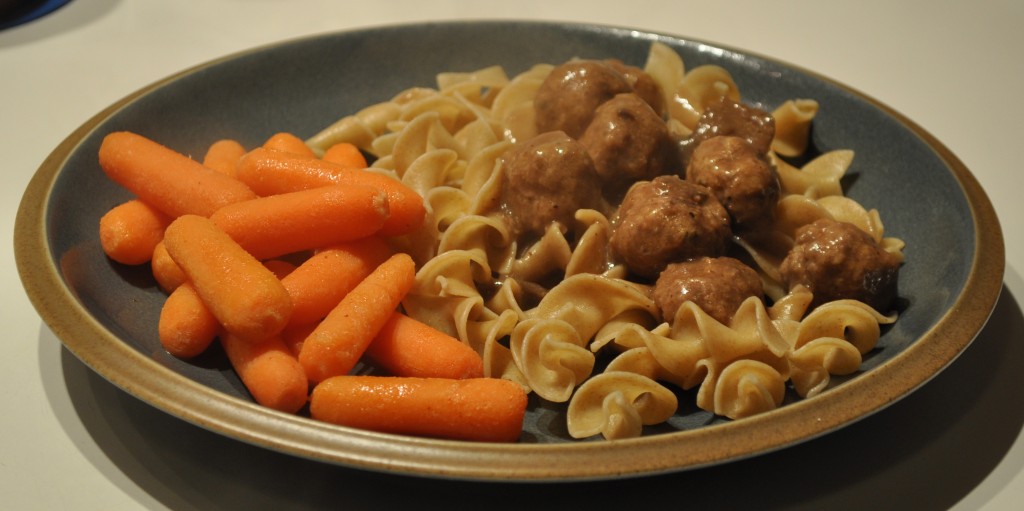 I don't know how authentic it is (actually, I'm pretty sure it's not authentic at all) but it makes for an easy dinner!  Here's the recipe if anyone wants to try it:
1 lb. ground beef
1/2 c. dry bread crumbs
1 egg
2/3 c. milk
2 tbsp. grated onion
1 tsp. salt
1/8 tsp. black pepper
1/8 tsp. nutmeg
2 cans of mushroom gravy
Combine all ingredients (except for the mushroom gravy) and form into small meatballs.  Cook in the mushroom gravy in a large pan on the stove top.  Serve with rice or noodles.