I love eggplant parmesan, but I hate frying…  This recipe is a fairly easy alternative to traditional eggplant parmesan.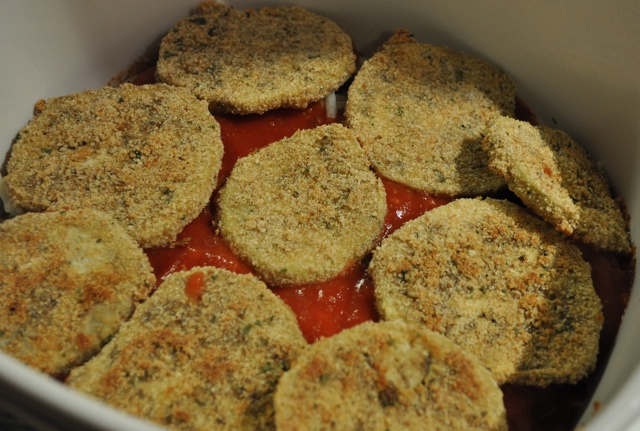 Slice the eggplant in 1/4 inch rounds, salt lightly, and layer on paper towels to soak up excess water.  The salt also helps to cut the bitterness that eggplant can sometimes have.  Next, dip the eggplant slices in egg, then in bread crumbs (I used the Italian seasoned type) and place them on a cookie sheet.  Bake at 400 degrees for about 10 minutes, then turn them over and bake for about 10 more minutes.
Pour enough spaghetti sauce into the bottom of a baking dish to lightly coat the dish, then layer the following:  eggplant rounds, shredded mozzarella and parmesan, sprinkle with crushed red pepper and Italian seasoning, and pour a little sauce on top.  Continue this pattern of layering until all eggplant is incorporated into the dish and be sure to end with sauce and a little mozzarella/parmesan on the top.  Cover and bake at 350 degrees until hot and bubbly (about 30-40 minutes).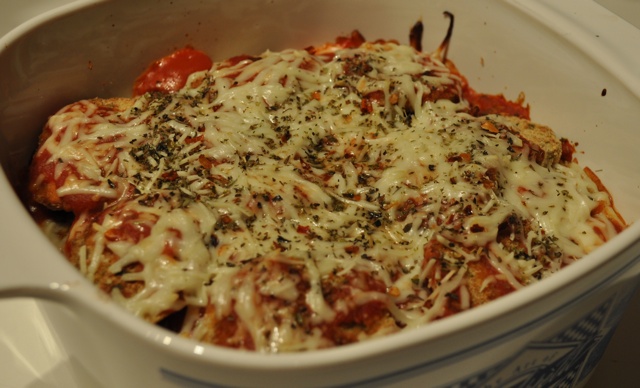 The end product looks a lot like a lasagne.  It would probably look pretty if layered in a clear glass baking dish.  Serve over pasta.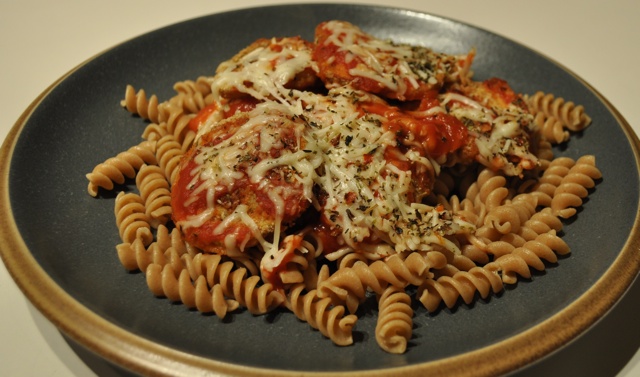 Ingredients:
2 medium eggplants, peeled and sliced
1 jar of spaghetti sauce
1-2 c. Italian style bread crumbs
3 eggs
1-2 c. shredded mozzarella
1/2 c. shredded parmesan
crushed red pepper
Italian seasoning
pasta