I am not sure why, but I have always had a fascination with saffron rice.  It is not something that I recall my parents serving at home when I was a child, I haven't ever had it in a restaurant, but there's something about that bright yellow color as seen on instant rice packets and in cooking magazines.  I'm not a fan of rice mixes, so I tried making my own saffron rice, and was happy with the results.  While it is not the most flavorful of rice dishes, it does have a distince, tea-like scent to it.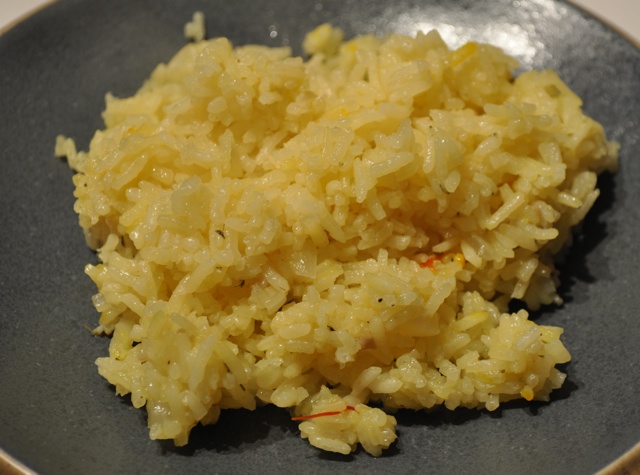 Saffron Rice
2 c. Jasmine Rice
3 1/2 c. chicken broth
1/2 packet saffron threads (I used Badia)
1/2 tsp salt (I used Real Salt)
1 – 2 tbsp olive oil
1 large onion, diced.
1.  Soak saffron threads in 1/4 c. of very hot water for 15 minutes.
2.  Wash and drain the rice and set aside.
3.  In a large pot, heat the olive oil over medium heat, and saute onions until transparent.  Then add the rice, stirring until fragrant (2-3 minutes).
4.  Pour in the broth, saffron and soaking water, salt, and stir.  Bring to a boil, then cover and turn heat down to low.  Cook the rice for about 20 minutes, and remove from heat.  Let sit for a five to ten minutes before serving.