Before diving into a Montreal bagel story, I should probably start with my New York bagel story…  On my very first visit to NYC, my first meal was a bagel and lox at a diner not too far from Penn Station.  I remember thinking that the bagel I had that day was the best bagel I had ever experienced.  Of course it helps that it was dressed with cream cheese, a very generous serving of smoked salmon, sliced tomatoes, sliced red onions, capers, radishes and olives.  But I remember the bagel itself as being memorably delicious…
So when a friend recommended that I visit Fairmount Bagel while visiting Montreal, my first thought was that a Montreal bagel experience would, in no way, be comparable to my New York bagel experience.  I was wrong.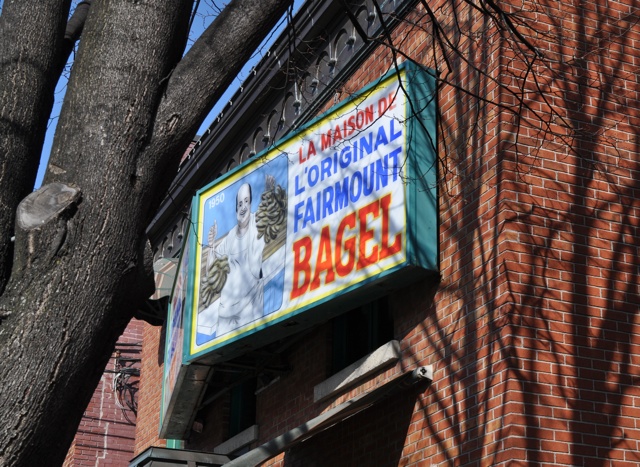 When we walked into Fairmount Bagel, I knew it must be a neighborhood favorite.  It was mid-afternoon and we had to wait in a short line to buy a bagel.  As we left, other people were walking in to buy bagels as well.  We could see the wood-fired oven over the counter, and there were racks of bagels ready for shipping to other locations.  The space was tight, and it was not fancy in any way, but for pocket change we bought a bagel to share.  (Keep in mind we had just had lunch a couple of hours before, and I had intentions of trying bagels at another shop.  Yes, I will admit it; I have a bagel addiction…)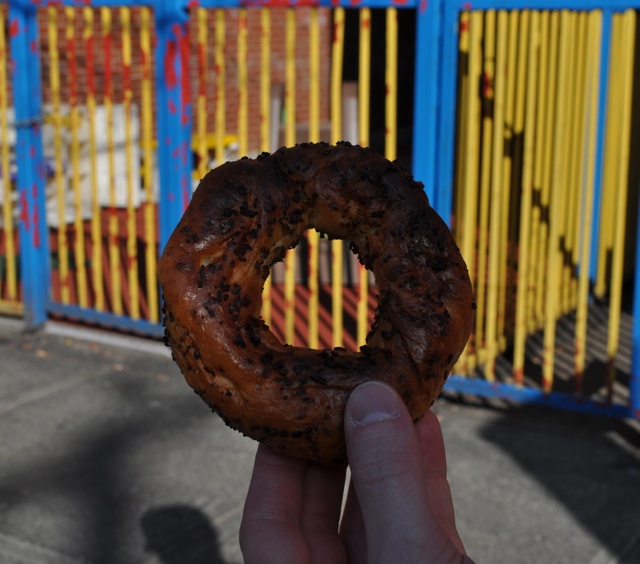 We chose an onion bagel, and found it to be smaller than the New York bagel that rocked my world, but the flavor was more intense and there was a slight sweetness to this bagel reminiscent of honey.  It was also slightly chewy, and reminded me more of a soft pretzel than a bagel, in a good way.  It was delicious.  If I lived near this shop, I would always have these bagels in my kitchen ready for breakfast, lunches or whenever…
After finishing the bagel, we trekked onward in search of a bagel shop that was mentioned on an episode of Anthony Bourdain: No Reservations.  It turned out to be less of a trek than we expected, and we arrived in less than five minutes on foot.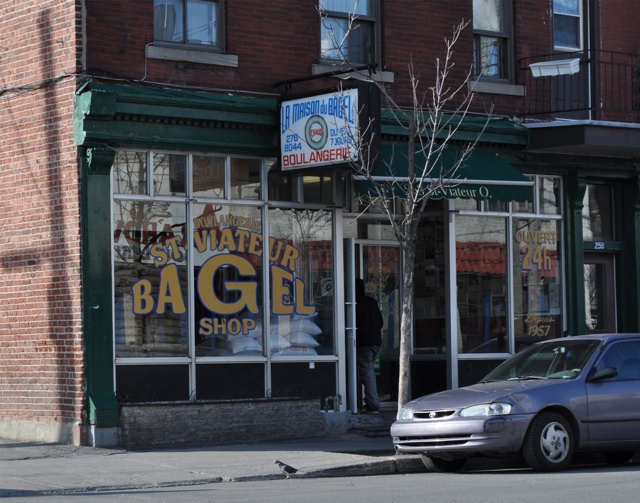 La Maison du Bagel (a.k.a. St-Viateur Bagel) also had a wood-fired oven, and we arrived as a batch of sesame seed bagels had finished baking.  I ordered one of these hot-from-the-oven bagels and it was amazing.  It was also chewier, smaller, and slightly sweeter than most bagels I have had before.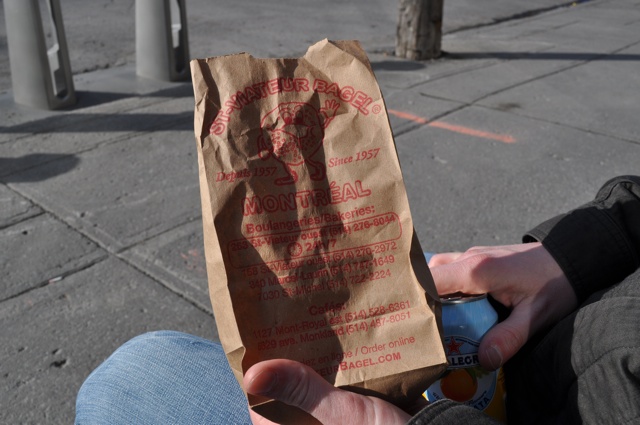 I'm not sure why I bothered to accept a bag with this bagel; it was entirely unnecessary.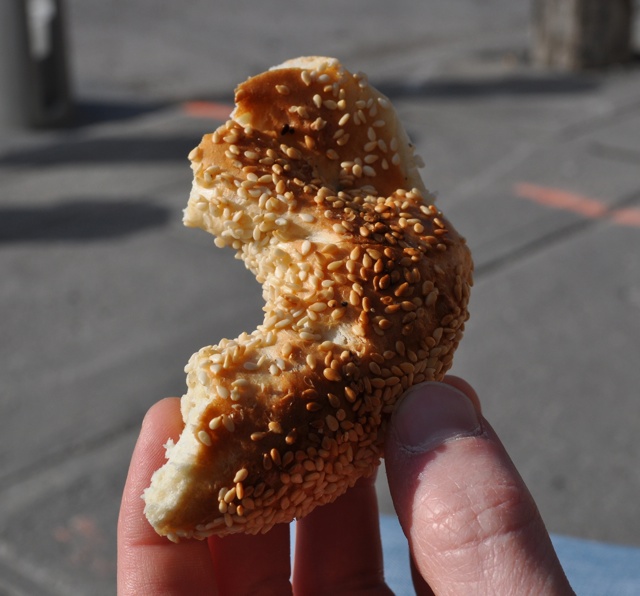 There is nothing like a freshly baked bagel.  Let's just say I ripped into this bagel before we finished crossing the street to the park bench where we ate it.  If only there were a bagel shop like this near home.  Sigh…