One thing I failed to experience in New Orleans was jumbalaya.  Fortunately my dad made a batch for a family gathering the very next weekend!  This recipe is a family favorite, and it is terrific for potluck meals.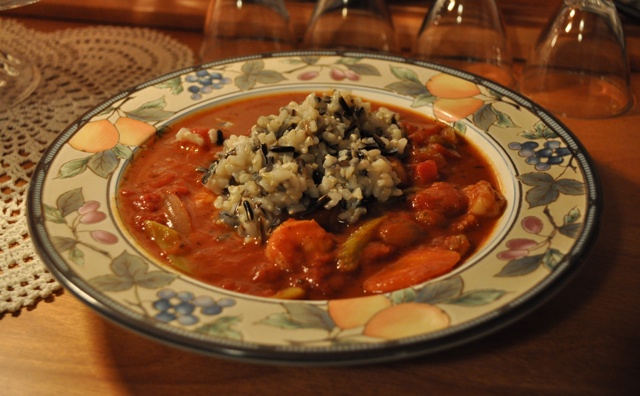 Dad's Jambalaya
1 – 2  lb. raw shrimp or cooked and sliced andouille sausage (or both)

1/2 c.

butter

(no substitutes)

1/2 c.

all purpose flour

1  10-oz can

tomatoes

1 3/4 c.

water

2 – 4

carrots

, sliced

2 – 4

stalks celery

, sliced

1

onion

, chopped

1

green pepper

, chopped

1 tsp.

dried basil

, crushed

1/2 tsp.

salt

1/2 tsp.

ground red pepper

1/4 tsp.

black pepper

cooked rice
Melt butter in a heavy bottomed pan, and whisk in flour.  Cook carefully over medium to medium high heat to make a reddish brown roux.
Stir in all ingredients except for the shrimp.  Cover and simmer for about 25 minutes or until the vegetables are cooked.
Add shrimp, and cook several more minutes until shrimp is thoroughly cooked.
Serve over rice.