This risotto makes an easy one dish meal with lots of flavor.  It is fairly simple to make, though it does take a little time for the rice to cook and the liquid to absorb and reduce.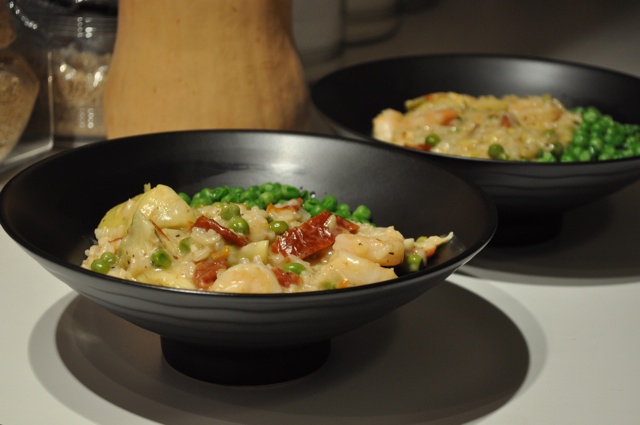 Shrimp Risotto
2 c. water
2 1/2 c. chicken broth
1/4 c. olive oil
1 onion, minced
4 cloves garlic, minced
1 c. risotto rice
1 c. white wine
1/2 c. chopped sun-dried tomatoes
1/4 c. half & half
1/4 c. shredded fresh parmesan
1 tsp. dried basil
1/2 tsp crushed red pepper
1 can quartered artichoke hearts
3/4 lb raw shrimp, peeled and rinsed
1 1/2 c. frozen peas, thawed
1)  Heat water and broth in a small sauce pan and keep warm on low heat.
2)  Heat olive oil in a large pot, and cook onion and garlic until transparent, then add the rice and cook over medium-high heat for 2-3 minutes until the rice becomes fragrant.
3)  Add wine, basil, and crushed red pepper, stirring until the liquid is absorbed into the rice.  Add one cup of broth, stirring occasionally until absorbed.  Continue adding broth in this manner until all broth has been added.
4)  Stir in the shrimp, peas, artichoke hearts, and sun-dried tomatoes and reduce heat to low.  Continue to cook over low heat, stirring occasionally, until the shrimp is cooked throughout and the liquid has thickened and reduced.
5)  Stir in the parmesan and half & half and serve with a side of peas.