Several years ago, when I mentioned that I wanted to go apple picking, one of my cousins recommended Wallingford's Fruit House.  In the same sentence, he told me how amazing their donuts are.  Why would I want donuts, when the purpose of the trip was to obtain fresh, beautiful apples?  I soon found the answer to that question, and have returned to Wallingford's each Fall since then for a freshly made apple cider donut.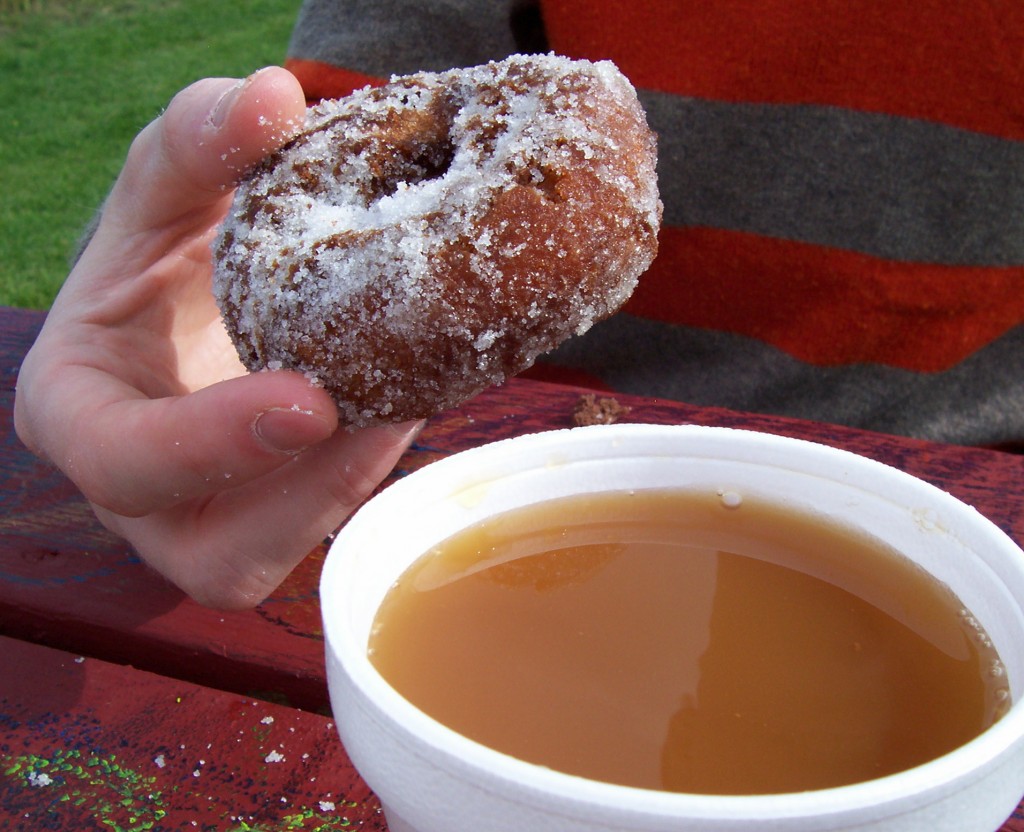 Wallingford's is an experience to say the least.  When we arrived, there were cars parked everywhere, and on our way toward the entrance I overheard a woman say, "I guess it's time to get in line for an hour to wait for our doughnuts."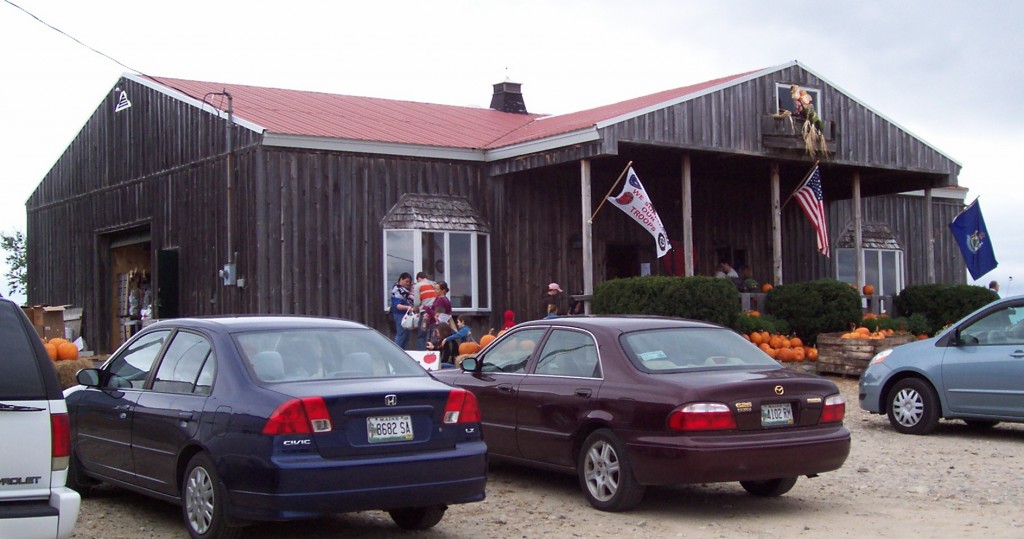 We knew we were in for a lengthy wait considering the packed parking area, but doubted it would be an hour before we would be sipping on hot cider and savoring warm sugared donuts.  As we entered the building, the warm and enticingly sweet scent of baked apple dumplings and homemade donuts wafted toward us.  We found that the line for donuts began at the door, and wrapped all the way around the interior of the building.  If I had never experienced a donut at Wallingford's in the past, I probably would not have waited in that line. I would not have had the slightest clue as to what I would be missing out on!  Fortunately there was plenty of eye candy along the way including cookbooks, a variety of local products, and even toy tractors and books for children.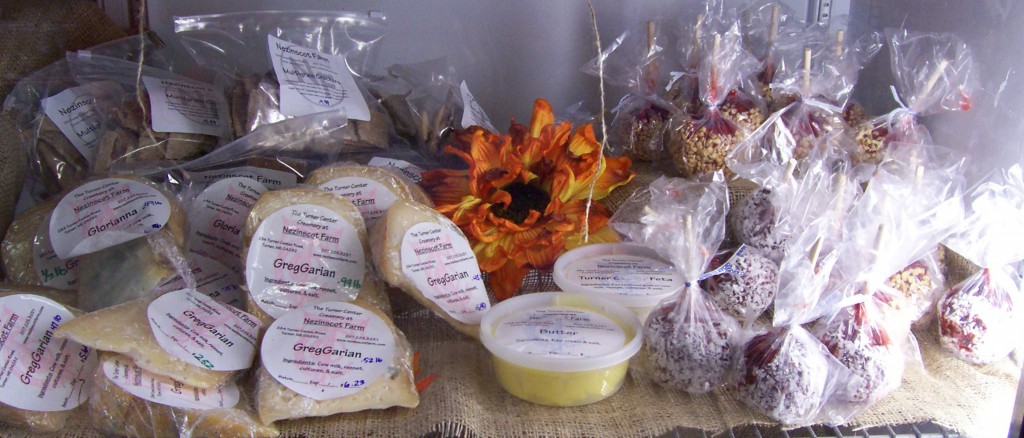 The first thing to catch my eye while waiting patiently for this year's donut indulgence was the display of locally made cheeses and butter from Nezinscot Farm, and candy apples beckoning to me from behind the glass.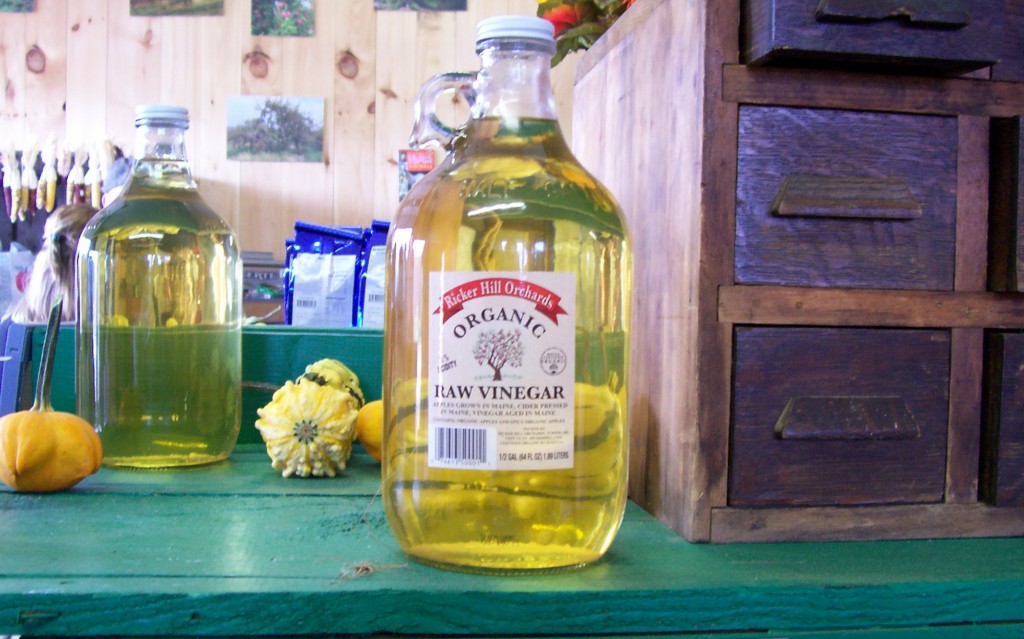 In addition to offering several varieties of cider, Wallingford's, which is now affiliated with Ricker Hill Orchards, offers organic raw cider vinegar.  They also sell homemade soaps, whoopie pies, fruit pies, pumpkins, candles, fudge and other candies.
Locally produced honey and maple syrup were also available for purchase on several well-placed displays along the seemingly endless donut line.  After about 30 minutes of waiting we were finally close enough to the front of the line to see the donut operation in progress.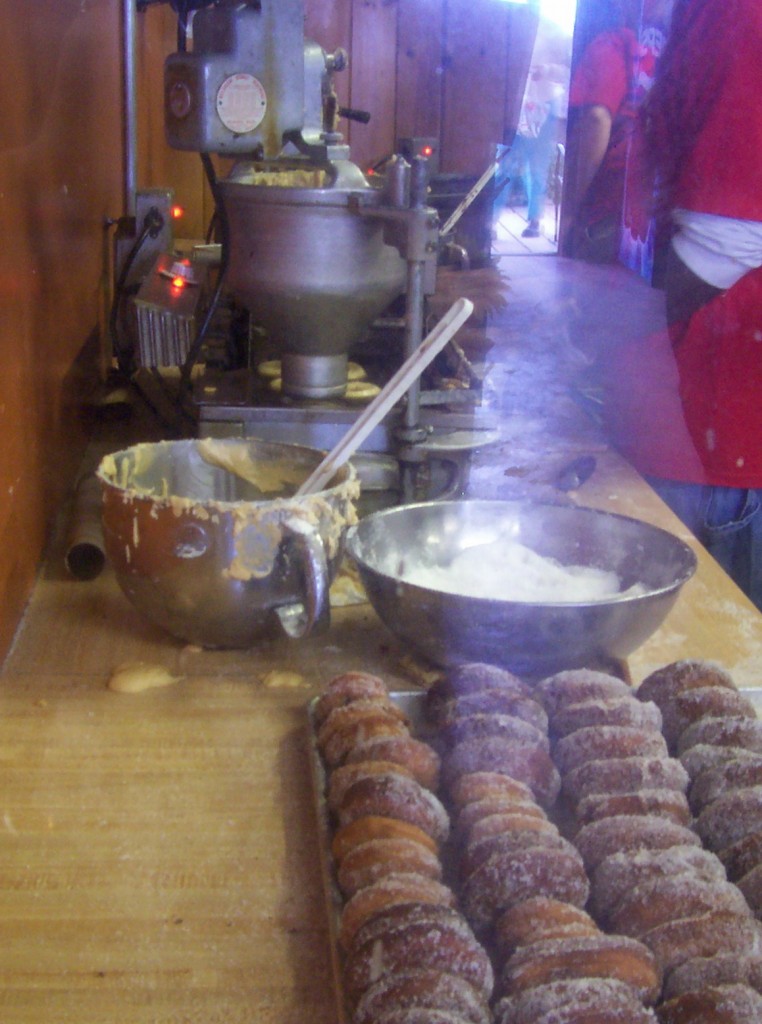 While watching the donuts cooking, and being dredged in sugar, I contemplated buying more than just one for each of us.  I didn't mention it, thinking one really would be plenty of sugar and grease for one day, but my husband said, "Let's get three.  We can split the third."  I grinned to the mind-reading-devil-on-my-shoulder and ordered three warm, crispy, sugary bits of heaven.  We paid for our donuts ($ .75 per donut) and hot cider ($1.00 per cup) to wash them down, and headed to the picnic area to devour the donuts for which we had officially waited forty minutes.

Wallingford's definitely brings out the kid in me.  I couldn't resist adding to the crayon graffiti on the picnic table.  I'm pretty sure that's what the crayons were there for, since there did not seem to be any paper or other things available to draw on.  The teacher in me feels a little guilty about having done that, even though the colander of crayons was fastened to the table and everyone else was doing it…  After the donuts, cider, and crayon fun, we ventured off to pick apples.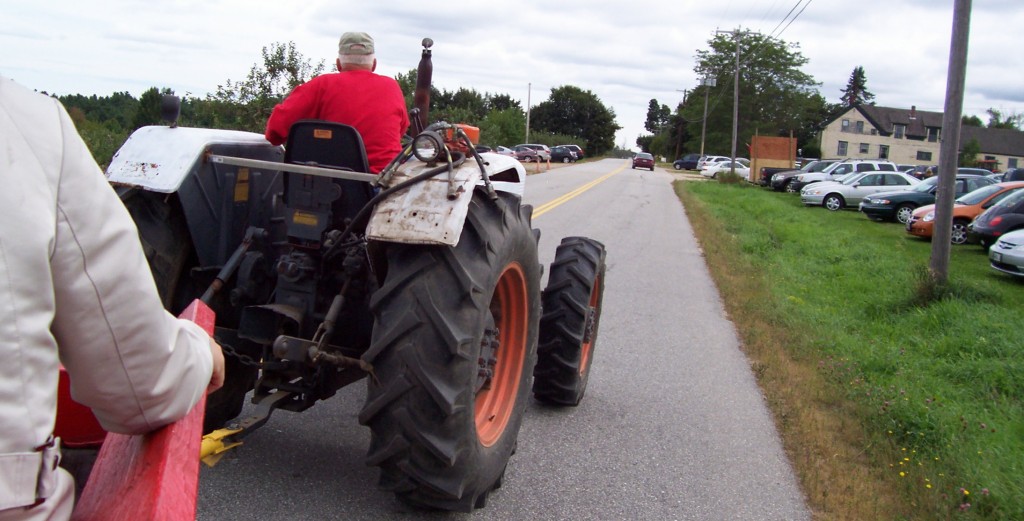 It probably would have served us well to walk off our donuts, but we were offered a ride in a wagon pulled by an old tractor, so we hopped on.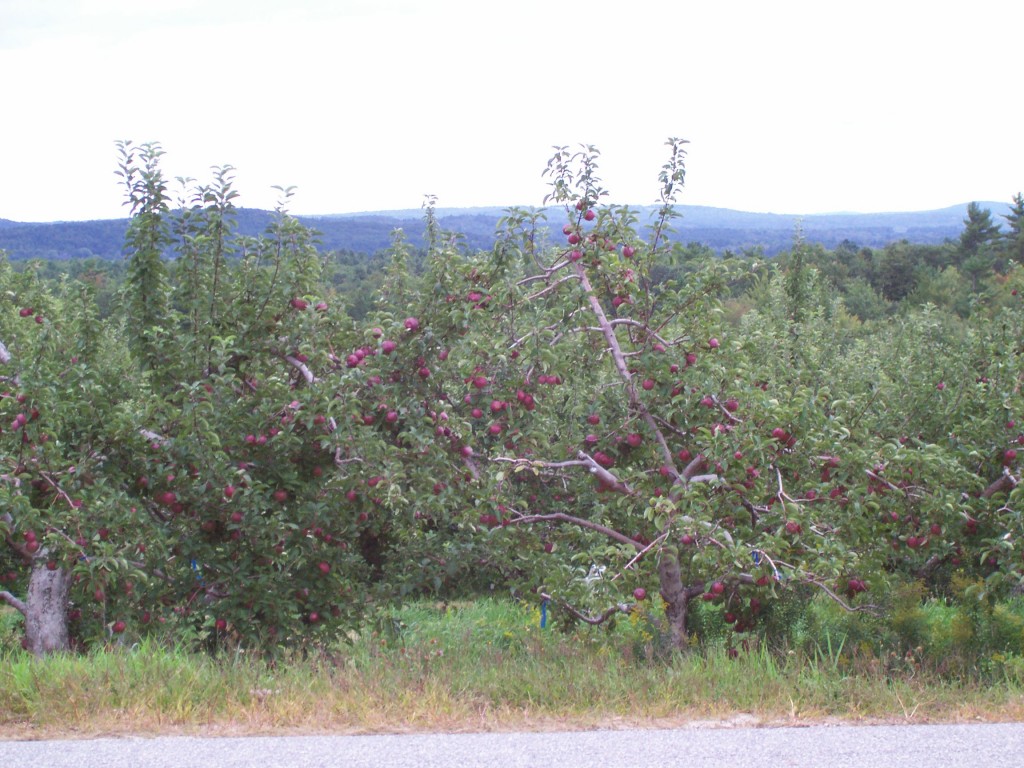 I was amazed at how plentiful the apples were, considering that Wallingford's has been open since August 18th, which seems early for apples in Maine.  We enjoyed a stroll around the orchard, and picked enough apples for a pie and plenty for just eating.  The good news is that we didn't pick too many apples, so I'll need to make another trip out for apples before the season's over.  I think I'll also pick up a bottle of the vinegar and a slice from the giant cheese wheel on my next visit.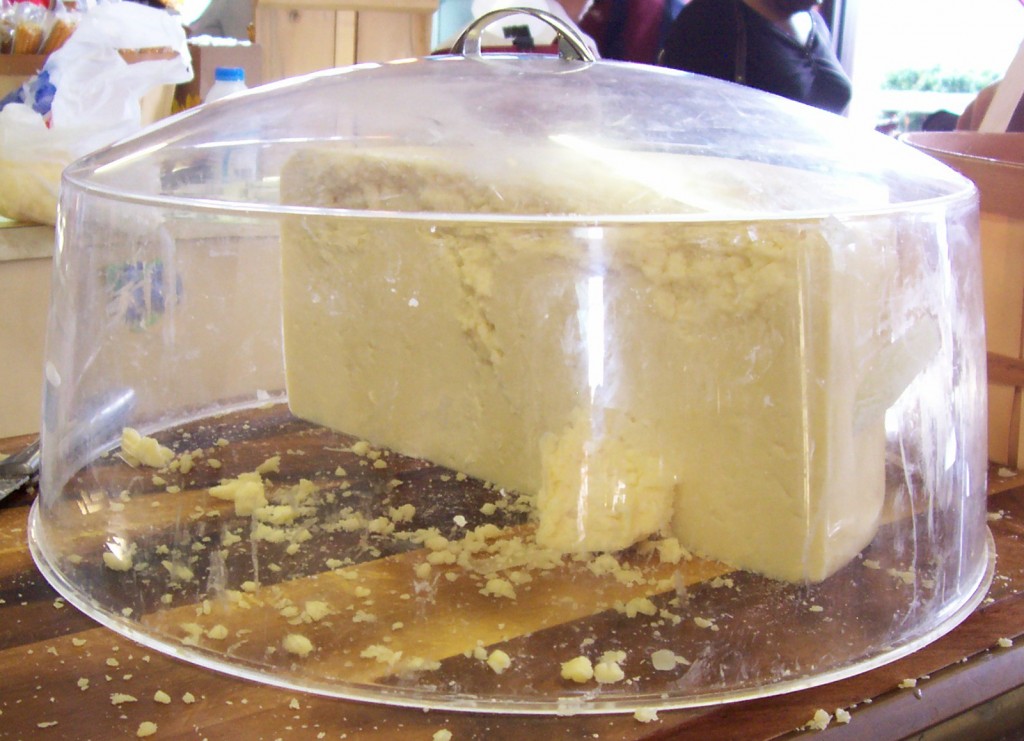 If the line isn't too long, I might even have another donut…