Scampi is the perfect Friday evening dinner because it's so easy to make, and after minimal effort, the results are just as good as any restaurant scampi at a fraction of the cost, in the comfort of ones own home.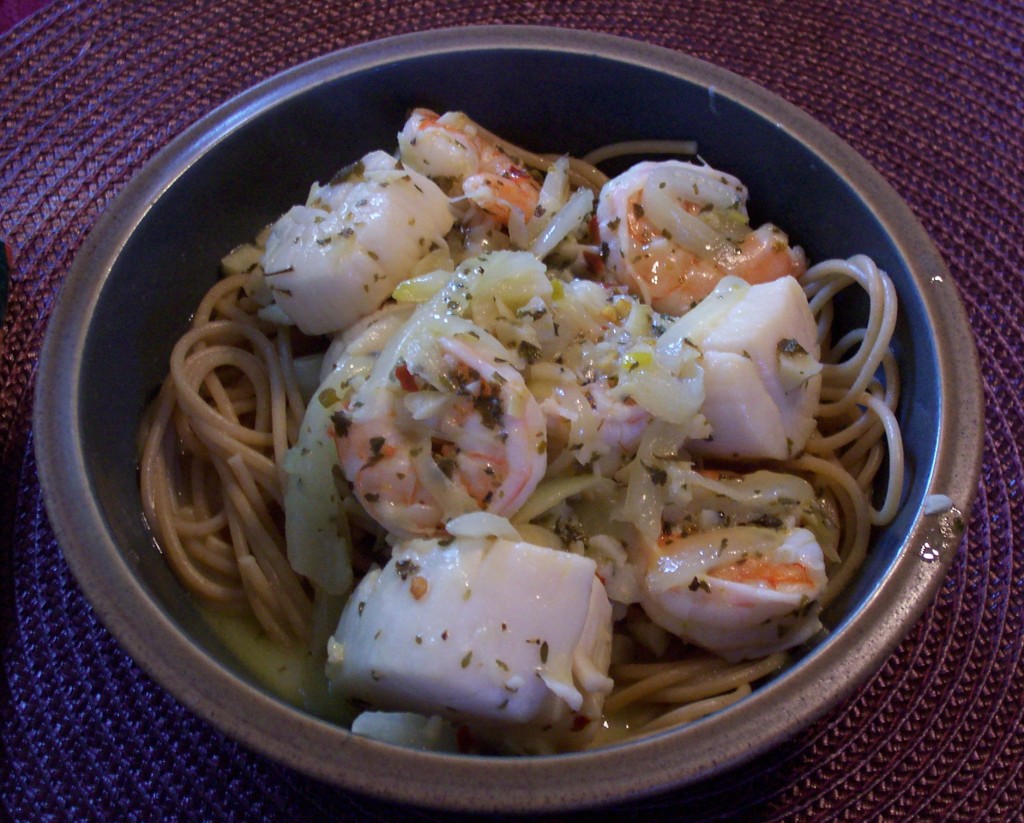 Ingredients
(serves 2)
1/2 lb large shrimp
1/2 lb sea scallops
3 tbsp olive oil
3 cloves garlic, minced
1 small onion, sliced lengthwise
juice of 1/2 lemon
1/2 – 3/4 c. white wine
dried or fresh basil and oregano to taste
crushed red pepper to taste
1/2 pkg. whole grain thin spaghetti
parmesan cheese (optional)
Heat the pasta water, and add the pasta as soon as the water reaches a boil.  While waiting for the pasta water to boil, pour the olive oil into a large pan or wok, add the garlic and onion, and cook over medium heat until the onion is translucent.  Add the shrimp and scallops, herbs/spices, and carefully saute so as not to break the scallops.  When the shrimp and scallops are just about finished cooking, add the lemon juice and wine and continue cooking just until the liquid begins to bubble, then reduce to low heat until the pasta is ready.
Place pasta in bowls, top with scampi and a little parmesan cheese.  We like to pour the remaining liquid from the pan into our bowls over the scampi.  It's very good with a few slices of sourdough bread after the seafood and pasta is gone!