Okay, so I have to be honest and admit that I didn't have any pecans or cremini mushrooms.  I started out following the recipe, knowing I would be substituting a different type of nut and a different type of mushroom.  Then I made some other changes to include more protein and veggies per serving, and work with the ingredients I had readily available.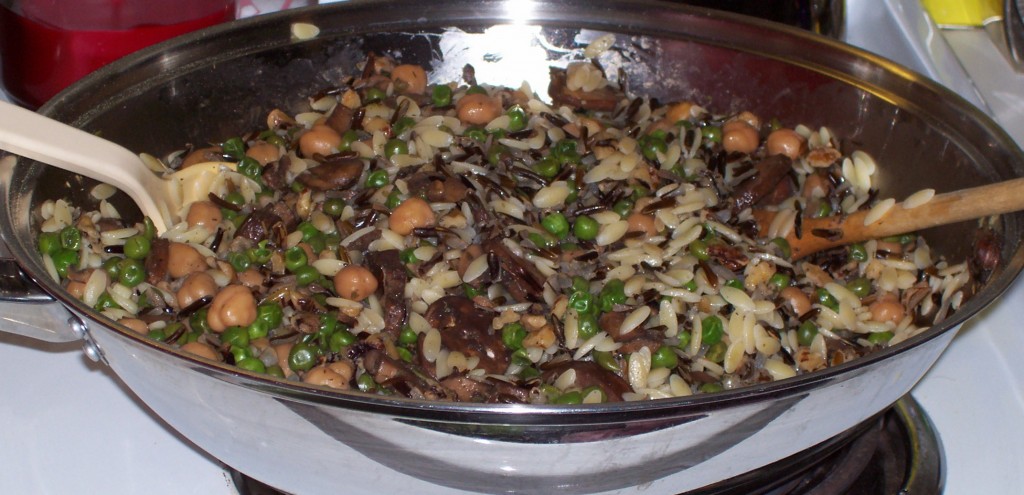 Substitution/Change Confessions:
I used 4 oz. of wild rice, instead of 3 oz. since it seemed silly to use all but one ounce from the 4 oz. box.
Instead of 1/2 lb. of cremini mushrooms, I used 1/2 lb baby portobello mushrooms since I had them on hand.
Instead of  1 c. frozen peas, I used the whole 1 lb. bag.
Instead of Half of a 15.5 oz can of chickpeas, I used the whole can.
Instead of fresh sage, I used 1 tbsp. of dried sage.
The remaining measurements remained the same, and the process was the same as the recipe describes.
All in all, I was pleased with the results, though I think next time I will add something else to it for more flavor.  Perhaps using fresh sage would make a difference, and perhaps something with a little heat…