When we go out for Chinese food, my partner in dining often orders what he refers to as "The General." I've never been a fan of this dish, which is often served up as a fried mess of chicken, covered in molasses-like syrup, and no vegetables… After seeing (and tasting a bite of) a particularly nasty batch of this stuff, I somehow ended up in a conversation about it with one of my teaching partners. She told me she had a recipe that was much lighter, and very flavorful. Having received the recipe on Friday, I made it my mission to try the recipe this weekend and see what my General Tso's connoisseur had to say about it.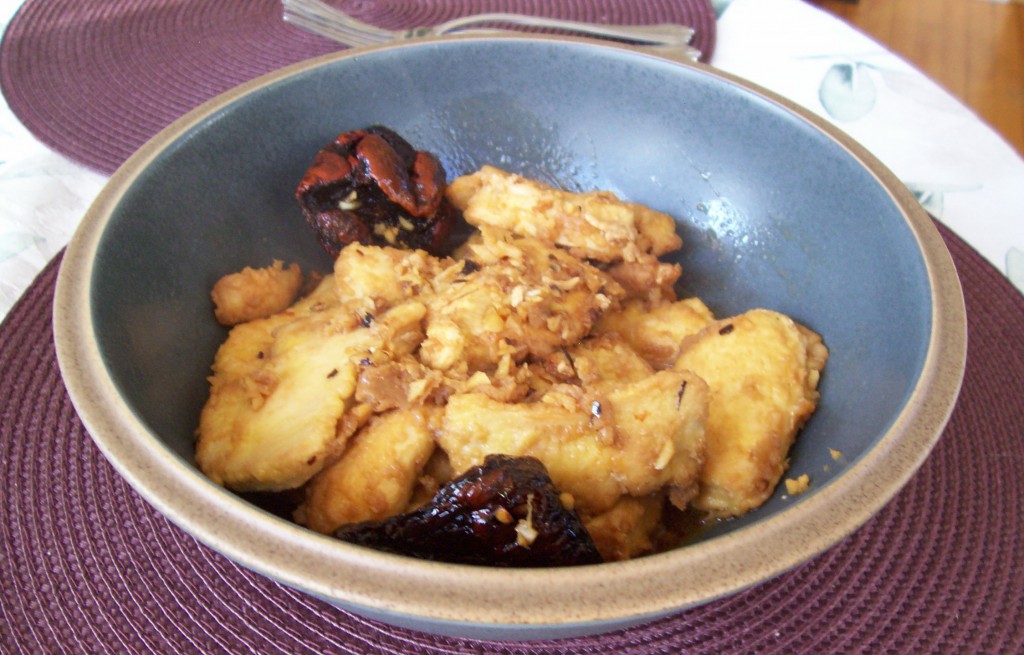 The original recipe for this dish is from Bon Appetit Magazine, December 1982.
This is actually the first General Tso's Chicken I truly enjoyed. It wasn't syrupy and had a fair amount of spice that balanced well with the fresh ginger, garlic, soy sauce and rice vinegar. As my friend & coworker would say, this is not a "chicken donut" General Tso's!
Ingredients
3 tbsp. soy sauce (I used San-J Tamari)
3 tbsp. rice vinegar
3 tbsp. water
1 large clove garlic, finely minced (I used 2)
1 tsp. finely minced fresh ginger (I used 2 tsp.)
4 whole chicken legs (instead I used two chicken breasts, sliced)
1 egg, beaten
1 tbsp. corn starch
2 c. oil (I only used enough Smart Balance oil to cover the bottom of my wok, closer to 1/2 c.)
4 dried hot red chiles (I used two, since the type I had were rather large ancho chiles)
1/4 to 1/2 tsp. dried red pepper flakes
Combine soy sauce, ginger, garlic, vinegar and water in a small bowl and set aside. Cut chicken into slices about 1/2 inch thick. Combine beaten egg and corn starch in a large bowl, mixing well. Add chicken pieces and toss to coat.
Heat oil in wok until very hot. Add chicken in batches and fry until crisp and browned on all sides. Drain on paper towels. Pour off all but about 1 tsp. of the oil from the wok. Add chiles and red pepper flakes and toss over high heat several seconds. Return chicken to wok with soy sauce mixture and stir about two minutes. Serve immediately.