This hearty vegan dish is high in protein, fiber, and flavor.  Its appearance isn't beautiful, but the flavor is a pleasing mix of spicy, sweet, tangy, and savory.  My first attempt at curried lentils was with a recipe I found at AllRecipes.com.  This time around I used some of the ingredients and techniques from that recipe, but changed a number of ingredients and measurements to create a smaller batch with a little more zing, using more convenient pantry ingredients.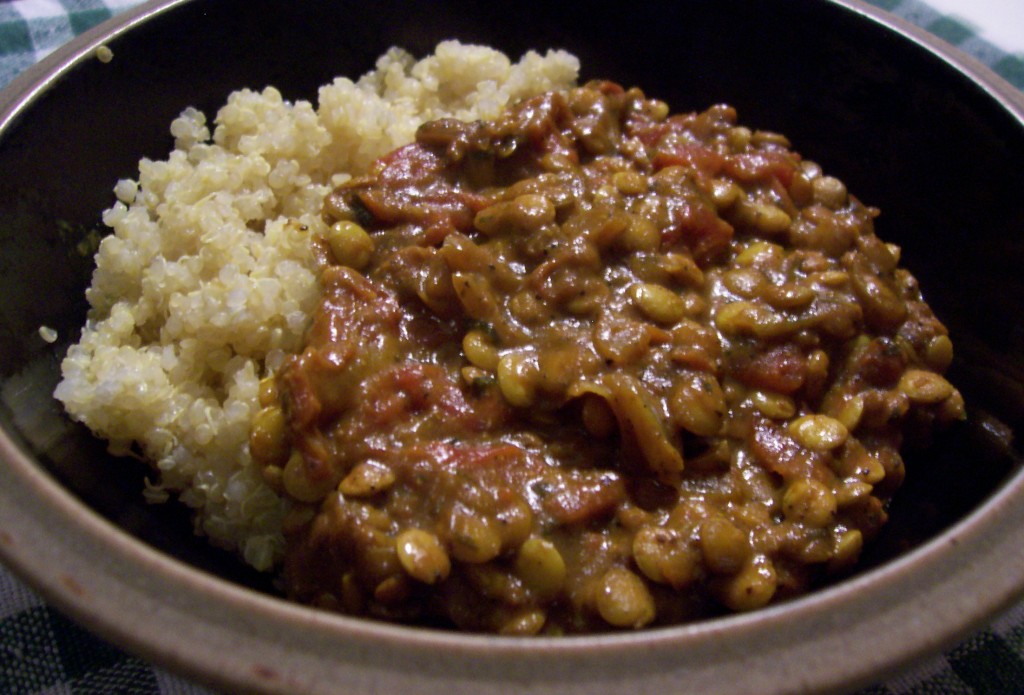 Curried Lentils
(Serves 4)
2 tbsp. Smart Balance oil
1 medium onion, chopped
4 cloves garlic, minced
14.5 oz. can of diced tomatoes, drained
3/4 c. water
14 oz. can of light coconut milk
1 tbsp. molasses
1/4 tsp. ground cinnamon
1 tbsp. coriander seeds, crushed well with a mortar and pestle
1 c. lentils (I use the larger greenish ones)
1 tbsp. Gourmet Garden Cilantro Herb Blend
1.  Cook the garlic and onion about 5 minutes over medium heat.
2.  Stir in tomatoes, water, coconut milk, molasses,  crushed coriander seeds, cinnamon, and curry powder.  Simmer 5-10 minutes.
3.  Stir in the lentils and cook over medium-high heat, stirring often, until the lentils have reached desired consistency, about 20 minutes.
4.  Season with salt and pepper to taste, and stir in 1 tbsp. of the cilantro herb blend (or 1/4 c. chopped, if using fresh cilantro).
Serve over rice or quinoa.