I had a fair amount of last week's crockpot pinto beans left over and wanted to use them as a side dish with dinner, so I decided to mix up a dry rub to flavor a whole roaster chicken with complementary seasonings.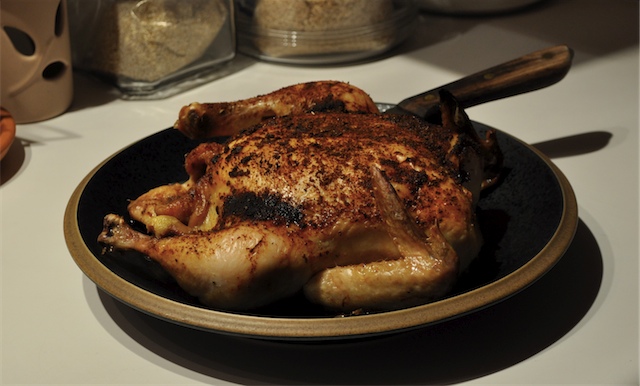 The preparation was simple: rinse the chicken, inside and out, and place in a roasting pan.  In a small bowl, combine 1 tbsp. dark chili powder, 1 tsp. garlic powder and a little salt and pepper.  Rub this seasoning mix on the outside of the chicken until well coated.  Then sprinkle about 1 tbsp. of lime juice over the chicken, and about 2 tbsp. of lime juice into the cavity and bake at 350 degrees for about 20 minutes per pound.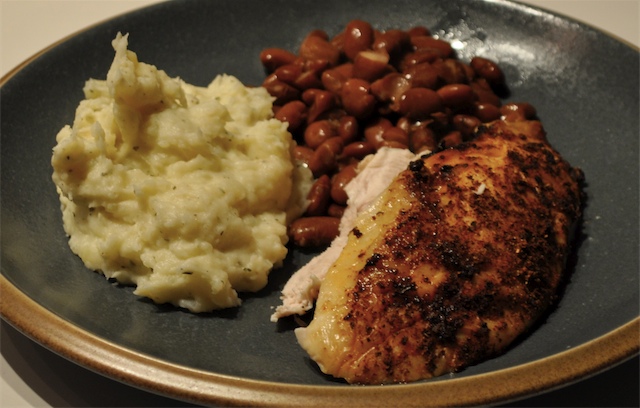 In addition to the chicken and beans, I decided to make some butter-free mashed potatoes.  To make these, peel, cube and boil ten potatoes until tender.  Meanwhile cook a whole diced onion in a small covered sauce pan with 3 tbsp. olive oil.  Add 1 tbsp. dried parsley when the onion is transparent, stir and set aside until the potatoes are cooked.  When the potatoes are ready, mash or whip in a mixer with the olive oil/onion mixture adding milk as needed.  Season with salt and pepper to taste.