Yesterday I was on a mission to buy Maine shrimp since they are in season and can be purchased for as little as $.99 to $1.25 per pound.  Apparently I was not the only person hoping to enjoy these little buggers, because the fish markets in town were sold out!
Instead we purchased some fresh haddock and changed our dinner plans.  This haddock, from Mac's Downeast Seafood, was so fresh that it had no odor whatsoever upon opening the package when we got home.  This was our first of soon-to-be-many visits to Mac's based on price and quality of the product.
Recipe for Pesto Baked Haddock
1 large haddock fillet
2 tsp. pesto
1 tsp. minced fresh garlic
1-2 tbsp. oil-packed sun-dried tomatoes
1 tbsp. fresh grated parmesan cheese
1/4 c. panko crispy bread crumbs, Italian style
Lightly brush the bottom of a baking dish with olive oil.  Place the haddock in the baking dish and brush the top surface of the fish with pesto.  Sprinkle with the fresh garlic, sun-dried tomatoes, and parmesan.  Top with panko and bake in a preheated 425 degree oven or toaster oven for about 10-15 minutes.  Serve with Sun-dried Tomato Risotto; recipe below photo.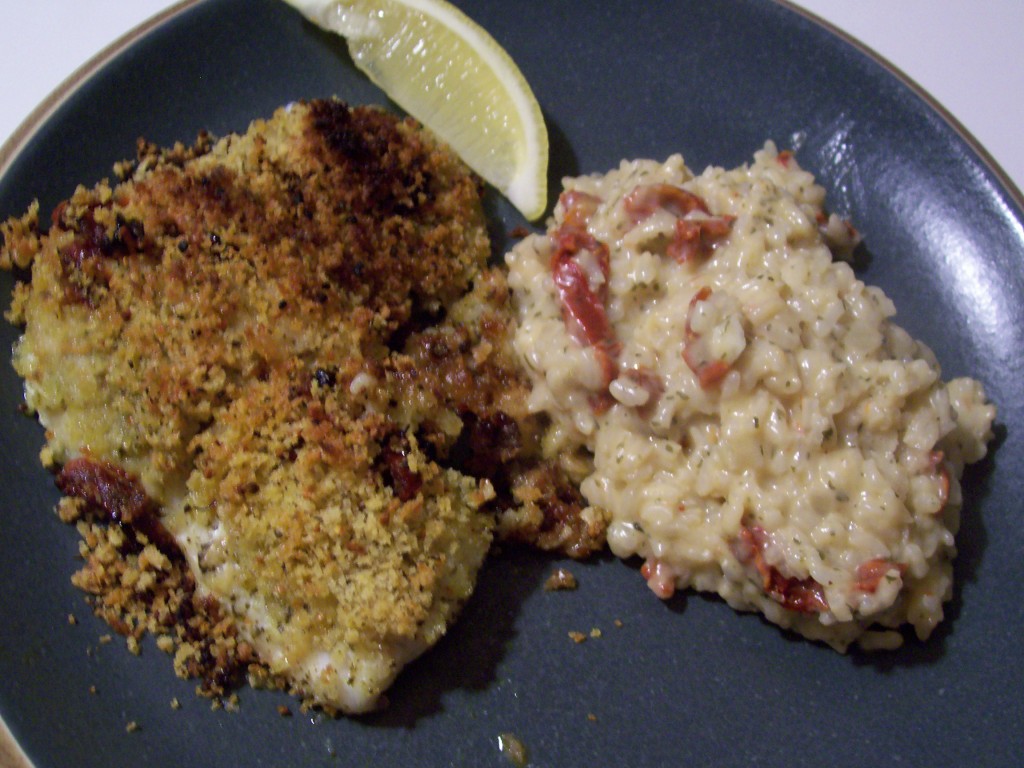 Sun-Dried Tomato Risotto
1 c. Arborio rice or other short to medium grain rice
2 c. chicken or veggie broth
2 1/2 c. water
1 c. white wine
1 tbsp. olive oil
1 onion, minced
3 cloves of garlic, minced
1/4 c. oil-packed sun-dried tomatoes
1/2 c. whole milk
1/4 c. fresh grated parmesan cheese
1 tbsp. dried parsley
In a large, heavy-bottomed pot, combine olive oil, garlic and onion.  Saute over medium-high heat until the onions become transparent.  Meanwhile, heat the broth and water in a separate small sauce pan and keep it warm over low heat.
Add the uncooked rice to the garlic and onion, and cook 2-3 minutes until rice is slightly golden in color.  Add wine, stirring until absorbed into rice.  Add 1/2 to 1 c. of the broth/water mixture stirring frequently until absorbed.  If using dry parsley, add it now. (If using fresh parsley, add it later just before serving.)  Continue adding the broth/water mixture 1/2 to 1 cup at a time until it  has all  been cooked into the rice.
Add the sun-dried tomatoes, parmesan, and milk at this point, stirring well.  Simmer over low heat, stirring frequently, until the risotto has thickened to desired consistency.