Last week I used my grandmother's whoopie pie recipe to make a whoopie pie cake for my dad's birthday.  A single batch of the batter is just enough to make two 8″ round cakes which can be filled in the middle to resemble a giant whoopie pie.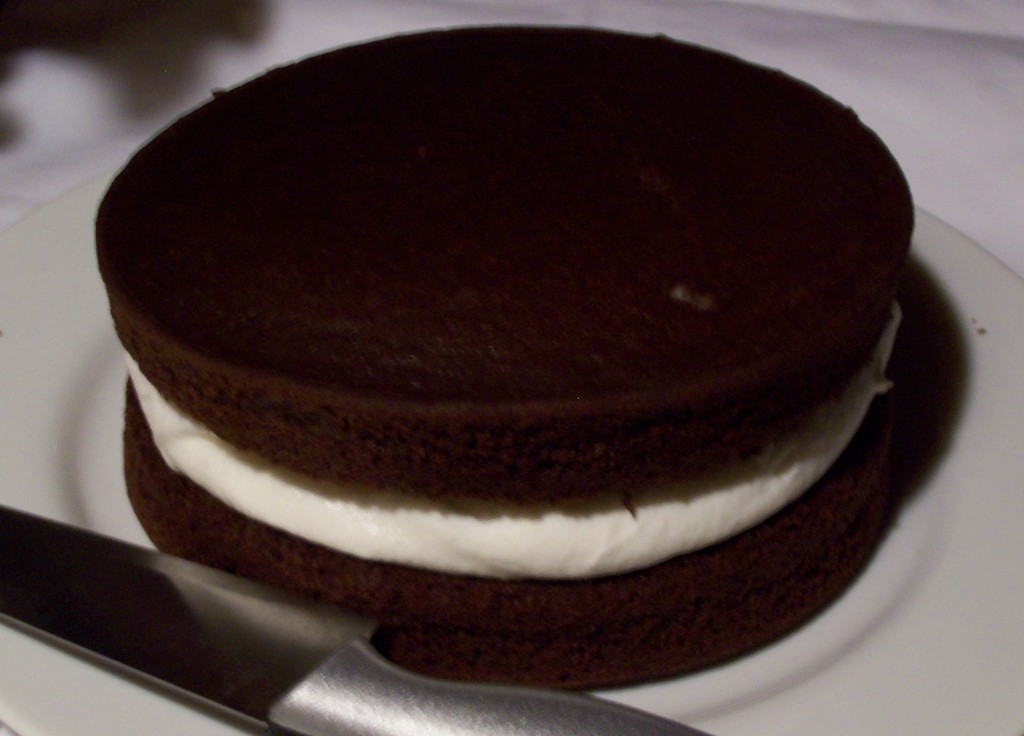 Memere's Whoopie Pie Recipe
Cookie or Cake Batter:
1/4 c. shortening
1 c. sugar
1 egg
1 cup milk
1 tsp vanilla extract
4 tbsp cocoa powder
1 3/4 c. flour
1/2 tsp salt
1/2 tsp baking soda
Combine shortening, sugar, egg, milk and vanilla in a large mixing bowl and mix thoroughly, either by hand or with an electric mixer.  In a separate bowl, combine the dry ingredients: cocoa powder, flour, salt and baking soda.  Then combine the flour mixture with the wet ingredients, a little at a time until the batter is smooth.  For cake:  Pour into two 8″ round greased cake pans, bake in a 350 degree preheated oven for 25-30 minutes.  For traditional whoopie pies:  Drop batter on a cookie sheet and bake the cookies at 350 for about 15 minutes.
Frosting:
Cook together 2 1/2 tbsp flour and 1/2 c. milk unitl thick, then let this mixture cool.  Using an electric mixer, cream together the flour and milk mixture with 1/2 c shortening until fluffy looking.  Then add 1/2 c. sugar while mixer is still running on high speed.  Next add about 1 c. of confectioners sugar, and continue to mix until fluffy.  If necessary, add more confectioners sugar to get the right consistency.